Graham Reid | | 1 min read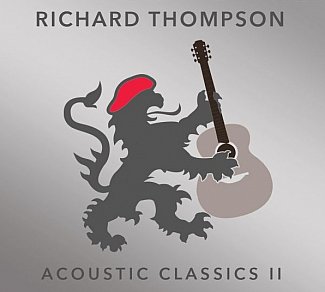 For decades his fans have argued that Richard Thomson has been cruelly overlooked, but that only seems to apply to sales: he has been accorded just about every major songwriting and guitar accolade possible in the USA and UK and also has an OBE.
But of course, none of that directly translates into a profile for a more mainstream audience.
This album – the excellent sequel to its equally intense predecessor – is steeped in the socio-political comment and personal pains he can explore so well.
But it needs be said not everyone would embrace an album which opens with She Twists the Knife Again and follows it with the shadowy The Ghost of You Walks.
But when Thompson starkly sings of the pharaoh sitting in his tower of steel with the dogs of money at his heel and "we're all working for the pharaoh" the message is timeless. As it is on Gethsemane and Devonside ("the only food she had was bread and morphine"), these three making centrepiece tracks on this gripping 14 song collection for which he reaches back to Fairport Convention catalogue for Crazy Man Michael and Genesis Hall.
A gifted lyricist with few peers, a guitarist in Rolling Stone's top 20 of all time and a voice full of commitment and pain here, Richard Thompson still sounds like man reaching deeper and wider -- even when revisiting his back pages -- when others of his generation are settling for the familiar.
Here he strips these songs to their essence and grabs you by the arm with a firm grip.
There are interviews and album reviews of Richard Thompson at Elsewhere starting here. An edition of this album comes with an extra disc of Rarities.