Graham Reid | | 2 min read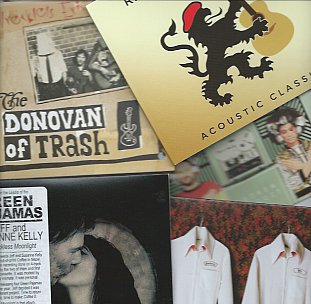 With so many CDs commanding and demanding attention Elsewhere will run this occasional column which scoops up international artists, in much the same way as our SHORT CUTS column picks up New Zealand artists.
Comments will be short . . .
Richard Thompson; Acoustic Classics (Proper/Southbound): The great British singer-songwriter Thompson has made frequent appearances at Elsewhere by way of interviews (in '91 and 2013) and a number of album reviews. But this is perhaps the album his former folk fans will embrace more than his fiery electric outings of recent years. Here are 14 of his cornerstone songs -- among them I Want to See the Bright Lights Tonight, Wall of Death, 1952 Vincent Black Lightning, Persuasion (co-written with Tim Finn), I Misunderstood, Shoot Out the Lights and ending with Dimming of the Day. One man and his guitar, and that body of powerful or heartbreaking songs, although they are not going to replace in affection their original treatments.
Jeff and Susanne Kelly; By Reckless Moonlight (Green Monkey): The Seattle singer-songwriter and mainman behind the excellent band Green Pajamas (as well as conducting other projects outside that GP remit of '66-influenced Beatlesque pop-rock) has also appeared frequently at Elsewhere, and we never tire of hearing new projects or tapes pulled from the vaults. This album has a precedent: in '87 Kelly and his new wife Susanne (an artist) independently released the album Coffee in Nepal and this poetic, often intensely personal (but with universal reach) By Reckless Moonlight collection is something of belated follow-up. As always the arrangements are as deft as the lyrics and here the Kelly's invite in cello alongside piano, Jeff's sometimes searing electric guitar and the acoustic-framed songs. Another exceptional outing from a reliable source (this time think White Album Lennon/Leonard Cohen/Donovan c. 1968). Make the effort to check Kelly out at Elsewhere. The album is available from here. And speaking of Donovan . . .
Wreckless Eric; The Donovan of Trash (Fire/Southbound): The always enjoyable Eric Goulden aka Wreckless Eric was one of those barrow-boy post-punk era lo-fi British pop-rock characters (initially on Stiff alongside Nick Lowe, Ian Dury, Jona Lewie and others) who was embraced by many and ignored by most. His rough-hewn pop was always delivered with conviction and from somewhere between the damp two-up-two-down and the gutter. But he knew exactly how pop-rock worked and always had something to say. This album was recorded over a long period in the early Nineties when he was living in a farmhouse in France and was released in '93 to absolute indifference. This welcome reissue with new funny, droll liner notes allows us to hear again his widescreen tribute to Joe Meek alongside his witty observations and scrupulously lo-fi sound. Shoulda been a star. A kind of one-man Ramones at times as much as the Donovan of trash.
Anushka; Broken Circuit (Brownswood/Southbound): Anushka is British singer Victoria Port but also the name of this duo with beat-maker/producer Max Wheeler, and here on Gilles Peterson's label they essay slippery, light clubland soul-pop underpinned by smart grooves and sometimes gently urgent beats. Upfront Port's appealing and ocassionally helium-filled vocals get multi-tracked and studio processing as she delivers smart nu-soul styles. Mostly it's late-night shuffles for the weary dancefloor or chill-out room -- it'll come to a wine bar or hair salon near you -- but she also writes some classy pop (Echo) and natty ballads (Atom Bomb, This Time is the standout and nods towards a career direction in itself).
Donnie and Joe Emerson; Still Dreamin' Wild, The Lost Recordings 1979-81 (LITA/Southbound): The remarkable story of the hitherto obscure Emersons was told at Elsewhere here on the release of their Dreamin' Wild reissue. From obscurity to pop stars in just 35 years! These recordings -- mostly the sole preserve of writer/producer Donnie - locates them somewhere between the early Dwight Twilley Band, Hall and Oates and the highly polished LA lite-pop of that period. Although it comes without the frisson of surprise that attended the earlier album, that takes nothing away from these crafted songs. If you ever liked Christopher Cross, soft-rock, Clapton's Wonderful Tonight . . .