Graham Reid | | 3 min read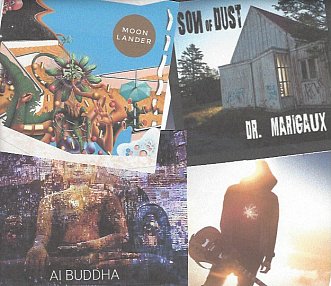 Facing down an avalanche of releases, requests for coverage, the occasional demand that we be interested in their new album (sometimes with that absurd comment "but don't write about it if you don't like it") and so on, Elsewhere will every now and again do a quick sweep like this, in the same way it does IN BRIEF about international releases and Yasmin Brown does for EPs.
Comments will be brief.
Moon Lander: Moon Lander
Wellingtonian Anthony Lander is behind Moon Lander, an album which he is essentially a solo recording (with drummer Warwick Donald) but for playing purposes has expanded into a full band of the same name. There's plenty of pedigree here prepared to assist hm live: he and Logan Valentine were in the Tweeks, drummer Oli Bridgman was in Fat Children and keyboard player Penelope Esplin has appeared in Grawlix, French for Rabbits and Prophet Hens.
Describing themselves as a psyche-pop project doesn't quite acknowledge the folk elements and sad sack humour here: the opener Lemon and Honey is about being sick, Another Me with looped backward guitar is that wish we all have when we are sick of ourselves; there's some tongue-in-cheek commentary on being in a band and relationships (This is a Test), the psych-folk comes through on the breezy but wryly cynical Good Things To Come . . .
This may sound modest but it's clever lyrically (Oh Lord) and these songs doubtless polish up more rounded when the band hops on board for material like the spaghetti western/surf guitars on Someone Else.
Lander says he's been influenced by the Kinks (Ray Davies' observational writing no doubt), the Buzzcocks (the pop economy, nine songs and six under three minutes) and the Clean (evident on the jangle and surge of Dateline and Pseudoephedrine, the latter with the amusingly self-justifying lyrics) among others, but he sounds quite unique.
Check the album out at bandcamp here
Dr Marigaux: Son of Dust
The good doctor in question is actually saxophonist, singer and multi-instrumentalist Phil Davison who is currently knocking off his doctorate at Otago Uni. Seems he still has a little time on his hands because this is the second album under his nom-de-disque Dr Marigaux (earlier there was Grit with his four-piece band) . . . and he is finishing off a film (see below) about blues, gospel and the late blues singer Ralph Bennett Eades.
The Dr Marigaux project is dark mix of voodoo blues, edgy New Orleans funk, the growl of Tom Waits and menace of Ronnie Hawkins' Who Do You Love? and some swampy unease. With a nod to gospel from beyond the coffin.
There are a whopping 21 songs here which might be a bit of meal in one sitting but it maintains a consistent mood (Spoonful gets a brittle treatment) and you'll certainly come away replete.
You can find the Doctor at Spotify . . . and you should, he's a good doctor with some bad medicine for your soul.
The Gemini Effect: Atomic Blues
This alt.rock/hard rock outfit from Auckland deliver some excellent scorched-earth/kiss the sky guitar, fist-tight riffery and impassioned vocals across these 15 originals which don't sound like they've all been written in same few weeks (often a curse for young rock bands, everything starts sounding similar).
They also channel the addictive lope and groove of Spirit in the Sky for the menacing Dance Little Stranger, barrel down the highway on the back of nasty blues (Same Different), wind things back for the coiled tension of Love Drone, the breathing space of the almost pop-friendly Dreams of the Karate Kid, the punk sneer on She Said . . .
Inevitably among this many songs there are some unmemorable things here (Velcro, Get It In Your Head which goes nowhere) and few where a re-think might have polished the material into more convincing shape (ironically ReThink).
So with a little trimming and a shuffle to avoid the sag in the middle, this debut sounds confident and gives this band a strong setlist.
Check it out at bandcamp here
Peter Haeder: AI Buddha
Auckland's Peter Haeder is a different kind of electronica artist who draws inspiration from the tradition of Tangerine Dream and Jean Michele Jarre as much as the downbeat moods of the early 2000s. To this he also layers in elements of spirituality (see here) and here explores the rise of artificial intelligence – which Elon Musk says is more important than what is playing out on the Korean peninsula – and how Buddhist philosophy and practice might play into that . . . often with driving beats.
Haeder sees the lack of body consciousness that the Buddhist practices can allow are not so far removed from AI (which isn't Terminator but rather a more benign and helpful kind of technology).
It is an interesting concept which he writes about in detail here
One for those prepared to explore a different kind of electronica (the processed vocals across 12 tracks might be a but much for some) and a consciousness where shape and form are very different ideas.
You can explore it here.