Graham Reid | | <1 min read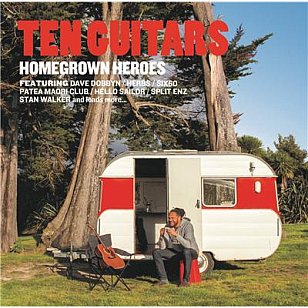 In a sequel of sorts to the previous Ten Guitars; 40 Songs from Heartland New Zealand which included international artists, this 42-song collection throws the spotlight exclusively on locals . . . and across an impressively wide spectrum, but all songs which resonate here and probably nowhere else.
In these days of Spotify and Apple etc playlists and such you might wonder whether compilation CDs are actually still relevant, but one with this kind of focus and reach makes very good sense.
Yes, it does read like Aotearoa's Greatest Hits (guess what tracks by these people: When the Cat's Away, Sisters Underground, OMC, Ngaire, Ardijah, Yandall Sisters, Fourmyula . . .?) but there are also other interesting inclusions.
The late Bunny Walters with his terrific Take the Money and Run, Patsy Rigger's Beautiful Lady, The Parker Project's Tears on My Pillow, Mark Williams' It Doesn't Matter Anymore, Rockinghorse with Thru the Southern Moonlight . . .
And it goes out with Sol3Mio's take on the title track.
You can check the full track listing here, but if this weather ever really gives way to something called summer then this is the one for the car and barbecue . . . and it's very hard not to start singing along to the likes of Max Merritt's classic Slippin' Away, Southside of Bombay's What's the Time Mr Wolf, Golden Harvest's I Need Your Love . . .
Christmas present for family and/or friends now living overseas?
Sorted!