Graham Reid | | 3 min read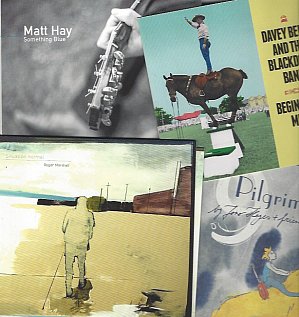 Facing down an avalanche of releases, requests for coverage, the occasional demand that we be interested in their new album (sometimes with that absurd comment "but don't write about it if you don't like it") and so on, Elsewhere will every now and again do a quick sweep like this, in the same way it does IN BRIEFabout international releases and Yasmin Brown does for EPs.
Comments will be brief.
Roger Marshall: Situation Normal
It's accepted here at Elsewhere that not many people these days can get to the broken beauty of (some of) Bob Dylan's albums in the past two decades, and that many have passed on his collections of standards . . . which is their loss because as always he gets behind the story in those old lyrics and makes you think anew of them.
Auckland singer-songwriter Roger Marshall has a burred and sometimes strained edge to his vocals – nowhere near as ragged as Dylan's I hasten to add – but it adds depth, gravitas, weariness and occasionally a bemused detachment. Longest Night here sounds like newly minted standard, if a writer in the Forties had a poetic and cosmic vision.
Marshall does an excellent speak-sing style of contemporary and urban blues (the Dylanesque Wudaokou and the dark vision of the ballad Undress Me which yearns for peace and redemption) and ably supports himself on guitar and harmonica (and carries a small band of keyboards, violin, bass and drums).
There is desperation here (Doing Life), Celtic mystery (Woman in the Mist) and the bleak future/present (the cracked cabaret sound of Lifeblood, the bitter folksy title track, the end of days for species in Last One Alive).
The final song Three Candles suggests the dying of the light and has a sense of acceptance . . . and an appreciation of the moment.
This, it seems from his interesting website, is fifty-adjacent Roger Marshall's sixth album (all in excellent and artistic covers by his son too) and you do have to wonder why he hasn't been widely acclaimed.
Yes, there are evident influnces here (Waits, Dylan, alt.country among them) but on the evidence of this he has a voice and a vision which is all his own . . . and so deserves to be spoken about in the same company as our finest writers.
These are sharp, observational and thoughtful songs of experience.
Longest Night, by Roger Marshall
Matt Hay: Something Blue
This modest second album by Wellington singer-songwriter Matt Hay (and his small band) pretends to be nothing more than it is, a collection of quietly crafted country-flavoured songs about often ordinary matters like life and love. So no self-mythologising here and the first reference which comes to mind might be the Warratahs/Barry Saunders.
There's a low and brooding swamp feel on High Roller (Hay is a good guitarist and plays a mean harmonica), a front room intimacy elsewhere (the gentle and reflective Something Blue and Somewhere I've Been Before) and domestic celebrations of simple love (All I Need, the very beautiful Too Much to Ask).
The loss on Love That I Had is aching. Ain't Gonna Worry afterwards is the necessary corrective to the grief.
Modest, but heartfelt and honest . . . so, nothing to be modest about.
Love That I Had, by Matt Hay
Davey Beige and the Blackdoor Band: Beginners Mind
As I understand it the Davey Beige here was in the Peter Stuyvesant Hitlist band back in the late Nineties, and because they were such fun then we consider that to his credit.
Here he and the band of tutors at MAINZ in Auckland (Tony Waine, Alan Brown and Harry Lyon among them) enjoy themselves on a meltdown of powered down power-pop and country (Big Star), acoustic blues (Silver Headed Rooster Blues), country rock (Sweet Spot), a poke at the Stones riffery and baby boomer nostalgia (Rock'N'Roll BBQ), and straight ahead rock (Who Am I? which does allude to Pete Townshend power chords . . . and yes that seems to be the Kinks nodded to on the self-referential Some Lines Like These). There's also the brooding Dylan-style of the slightly menacing Mistaken (think Bob's Everything is Broken) and more serious matters (the acoustic Circle of Life and Heartbeat).
While not an essential album you get the sense that these songs deserved an airing and that it was their pleasure to make this. Enjoyable.
A splendid time was had by all, no doubt.
Big Star, by Davey Beige and the Blackdoor Band
.
Jono Heyes and Friends: Pilgrims (Mama Yeva)
Jono Heyes has appeared at Elsewhere previously with Le Fisherboy and here he continues his world music adventures with his Mama Yeva group in Dunedin and which has apparently played in over 50 countries. It seems to be a revolving door ensemble of musicians from all over the planet (who don't appear to get credited on the album although the guest players do).
So what is here across these nine tracks are West African sounds co-mingling with multi-culti lyrics (a few in English), influences from Spanish music, Cuban piano, a little te reo folk on Kia Ora, solidarity with the Native American people at Standing Rock, liner note quotes from Rumi and Martin Luther King and Gibran and the New Testament, a very poetic song about JFK and MLK . . .
It certainly has lofty aims in the text and intention but it does also sound too much like a world music compilation album lacking any serious oomph . . . until the second half when the lowkey world-folk becomes more focused.
And the final track Raindrops seems to veer towards the centre of the frame from the template laid down in the side alleys by the Incredible String Band.
A fairly convincing calling card for Womad and world music festival promoters and bookers, probably.
Ma Cherie, by Jono Heyes and Friends