Graham Reid | | 1 min read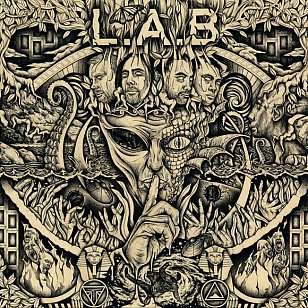 Opening like a classic and spiritually inclined Santana album or one of David Gilmour's refined moments in Pink Floyd with guitar by Joel Shadbolt (Batucada Sound Machine), then morphing into a slinky reggae groove, the seven minute-plus She's Gone is as ambitious as it accomplished . . . and sets the tone for what is something of local supergroup.
LAB are drummer Brad and Stu Kora on keyboards (from Kora), bassist Ara Adams-Tamatea (Katchafire) and Shadbolt.
There's a lot of summershine roots music here (the soulful and after-dusk ballad Love Will Save Me, reggae inflections everywhere) but also nods to a kind of haka-punk take on reggae (the declamatory Jimmy Boy), country-rock with father Tai Kora on searing slide for Oldman, driving handclap funky-country pop on Lonely Man . . .
There's also the irresistibly catchy and almost darkly minimal Umulash ("I wanna get cash") helmed by percussion, the bass-driven and echoed Oh-No with almost Middle Eastern intimations in the guitar part, and the eight minute Sweet Water is a revision of the earlier Starry Eyes which picks up a moody groove with a similar forward momentum of Bob Marley's Exodus but here it then bounces off into soul-funk for the dancefloor.
Conventional wisdom used to say local artists were unwise to release an album at this time of year and go head-to-head with internationals pumping out their hits collections. But the landscape has changed with streaming and this week alone have been excellent, thinking-person's albums for the summer season by Rob Ruha and Troy Kingi.
LAB -- who are touring, dates here -- have just added their name to the playlist for those days and nights when the clouds finally part.
(Out on limited edition double vinyl too)