Graham Reid | | 1 min read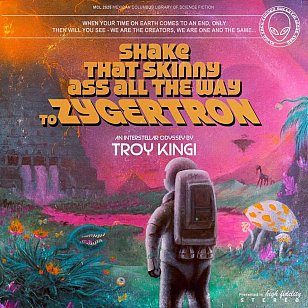 Elsewhere was quick out of the gate to acclaim last year's enjoyable and diverse double album by singer/guitarist (and actor) Troy Kingi. With his Electric Haka Boogie band on Guitar Party at Uncle's Bach, Kingi delivered what was almost a compilation album of styles, none of which outstayed their welcome and provided the perfect summertime listening (but with important messages woven through).
This one is a harder call because it is – as the subtitle "An Interstellar Odyssey by Troy Kingi" suggests – some kind of sci-fi concept album.
We'll let him explain it: "Shake That Skinny Ass All the Way to Zygertron is a fictional account of two people from different times and dimensions meeting in the cosmos, falling in love and having a child with golden feet, fulfilling an ancient prophesy written in the hieroglyphics of the coming of the messiah".
Uh-hu, okay.
There is the spoken word passages on Granda's Rocket Poem – three songs in – which, along with Kingi's soulful voice singing of cosmic mystery and spirituality, sort of clarifies things.
Whether you follow the theme or not you have to acknowledge the gorgeous soul sound – and often a sense of ineffable sadness – across these 11 songs and fiftysomething minutes which hark back to Stevie Wonder and Jimi Hendrix at their most thoughtfully cosmic, offers some gentle soul-funk (the excellent Luna Steppa) and even manages to project a Pacific breeze into outer space (Gold Shoes).
With Ed Zuccollo (Trinity Roots) on synths and Mara TK (Electric Wire Hustle, also on production duties), Kingi certainly weaves a magically astral flight of warmth and sensitivity, but as with most such concept albums where the musician's personal vision is idiosyncratic, this takes some following.
But in a sense you don't have to because it's a voyage and the journey is always more important than the destination.
Turn off your mind, relax and float into space.