Graham Reid | | 3 min read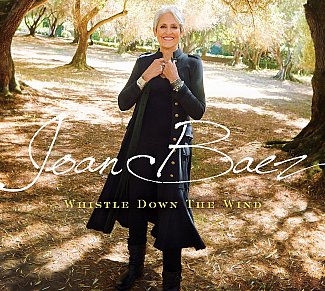 Sometimes you just have to come clean and admit you were wrong: As I did in '94 when I wrote about Across the Great Divide, a box set of The Band, a group whose music I had found terminally dull when I first hear it.
I was into noisy Zepp/Sabbath rock in the late Sixties and these guys just seemed prematurely old and boring.
But I admitted, belatedly, I was wrong about them when wiser heads showed me the light, and I grew up.
And then again when the first Traveling Wilburys album arrived in '88.
(Ditto regarding the geriatric impression, especially in the case of my rock'n'roll mainman Tom Petty who seemed to have aged a decade with the consequent attrition of energy by hanging around with Old Guys like Dylan, Harrison and Orbison.)
And I was wrong about those boring folkies like Pete Seeger and Joan Baez, neither of whom set my pulses racing in the Sixties when Bob and the Byrds and other folk-rock heretics were stealing a march on those holier-than-thou acoustic folkies.
(By the way however, I stand by my opinion that Joni Mitchell was a crashing, self-indulgent bore for a couple of albums and her shrill, octave-bounding version of Woodstock remains unlistenable to this day.)
But we live and we learn and in time I "got" The Band, the Wilburys, Seeger (although I still prefer early Bob Seger to any Pete Seeger) and Ms Baez.
And I have admitted as much in print.
Joan Baez is of particular interest because she did an 80 percent remarkable concert in Auckland at the Civic before a slavishly adoring fanbase some years back – although that once crystal voice was gone in the tops and there were alarming leaps into a falsetto which were truly unsettling.
But you cannot take from her that history of political engagement and uncompromisingly liberal and unashamedly Left politics.
It would seem we need more people like her today who – as a mostly solo artist – have a voice which can cut through the racist/right-wing/divisive clutter out there.
But it seems we might not have her for much longer because she has suggested (rather than actually stated) that Whistle Down the Wind might be her final album.
But like Elton John, Paul Simon and others – who announce their lengthy retirement from touring, it will be three years before Elton exits stage right – she has also indicated she won't hit the boards much more after her concert schedule starting this month which is billed as The Fare Thee Well Tour.
Well, she is "looking at 80" (her words not mine) and if you were there beside Bob Dylan when his flicker of fame was just igniting and he seemed barely old enough to shave, and alongside Martin Luther King – who has been dead half a century and with whom it was alleged by the FBI in recently released documents she had an affair – then maybe you might want to consider a life well lived and that it was time to stop and take stock.
That means there is some considerable weight lying on the Joe Henry-produced Whistle Down the Wind – her first new studio album in almost a decade – which opens with that Tom Waits/Kathleen Brenner title track and closes with the pointed and frankly dreary-folk/world weary I Wish the Wars Were All Over (by folklorist/songwriter Tim Ericksen).
So the album wears the weight of its moment in time and her life heavily . . . but also deftly in places, as on the skeletally impressive treatment of Anohni's Another World ("I'm gonna miss the sea/the snow/the beach/the seeds that grow/the trees . . . miss you every one, I need another place . . . this one's nearly gone").
And she also goes to Waits/Brennan for their Last Leaf ("they took the rest but they won't take me") from Waits' Bad to Me.
These might seem maudlin but apposite on paper however she brings a kind of quiet grace to those lyrics, as she does to Henry's domestic dispute and broken hopes of the increasingly metaphorical Civil War and again on his mythic sex'n'murder ballad folk of Silver Blade.
She offers her customary optimism (Josh Ritter's self-effacing Be of Good Heart which sounds written for her), and gets directly political (with perhaps too much uncomfortably Christian/redemption for some tastes, mine included) on Eliza Gilkyson's finger-wagging but benignly apocalyptic vision on The Great Correction.
And mercifully here she doesn't indulge in attempts at getting to that holy falsetto she once commanded. This is melodically muted but she has chosen material loaded with meaning, some might say portentously so.
However given the news of the most recent high school killings, her incisively simple version of Zoe Mulford's The President Sang Amazing Grace (about the Charleston church killings in 2015) she seems presciently timely, and we might also observe tragically timeless in a broken America.
I'm prepared to say it again: I've been wrong about any number things in my writing and life, and Joan Baez's catalogue counts pretty high in my "silly you" confessional.
If this her final album she is leaving with something akin to a quite amazing sense of reflection and a forgivably self-conscious grace . . .