Graham Reid | | 3 min read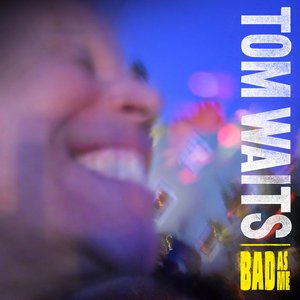 At the end of the local edition of this exceptional album -- Tom Waits' first studio album in seven years -- there is a disconcerting litany of images entitled with seeming certainty After You Die, but which in fact asks the more pointed question, "what is it like after we die?"
Waits yowls through it like a man broken on a rack, and it's a scary ending to an album which touches many places.
The album-proper in fact ends with the more appealing preceding piece New Year's Eve which -- as with his classic Tom Traubert's Blues which incorporated Waltzing Matilda -- appropriates Auld Lang Syne into a wonderful, wistful ballad which brings to mind the Pogues' Fairytale of New York. Yes, it is that good -- and much like that classic boozy balladeer period of the young Waits which so many still prefer to his 30 years of clankery.
And prior to these two distinctly different points Waits explores many facets of his vast stylistic palette from inhabiting characters to raucous noise and some tongue-in-cheek rhythm and blues.
This is Waits as many might want him, sometimes nostalgically reflective and sometimes poetic, at other times just making a racket and having a lot of fun.
Bad As Me opens with an urgent, rollicking train-time rhythm and flight into promise of Chicago ("things will be better in Chicago . . . because this bird has flown from his cage") which ends with him bellowing "all aboard, all aboard".
And Bad As Me is a train worth catching.
The spirit of Chicago appears later in the terrific Satisfied (with Keith Richards among the co-conspirators) which takes a large dollop of Chess blues (specifically Willie Dixon/Howlin' Wolf's Wang Dang Doodle) and stirs it up with the Stones' Satisfaction. It namechecks "Mr Jagger and Mt Richards" but demands "satisfaction . . . before I'm gone".
The Stones may have wanted it, but Waits -- hitching up to a rough edged band -- makes it clear he is gonna get himself some.
And Waits digs through the history of rhythm and blues on the remarkable Talking at the Same Time where, for a few bars, you might wonder who the young black singer is with his falsetto and soulful yearning tone. It is Waits adopting another voice which connects to an old bluesman as much as Smokey Robinson and Marvin Gaye and aching over rinky-dink piano and the keening guitar of Marc Ribot.
But even this hardly prepares you for the swerve he takes on Get Lost where he digs back into warped rockabilly which sounds like it was made for a house party.
Elsewhere Raised Right Men ("to keep a happy hen") drops in some Waitsean characters (Gunplay Maxwell, Flat Nose George and Ice Pick Ed Newcomb) who could have been saved by a good woman's love. "But there ain't enough raised right men".
There are quiet moods here -- the physical and emotional departure on the world-weary Face to the Highway "and I turned my back on you" -- and the lovely, melodically effortless ballad Back in the Crowd which has a Hispanic quality (thanks to David Hidalgo's guitars) but ends with a romantically escapist, Hawaiian sound. It sounds like an instant classic, if the year was 1946.
But the standout is the exceptional Pay Me.
Adopting the persona of a prodigal who "gave it all up for the stage" but now "money from home is supporting me", it opens with the heartbreaking and arresting line, "they pay me not to come home" which Waits lurches into in a way that grabs your attention for the emotional weight it carries.
From the raw title track to the midnight piano ballad Kiss Me (just Waits and bassist Marcus Shelby) which could have come off Closing Time in the Seventies; from the bluesy whack of Satisfied to the croaky, sentimental duet with Keith Richards on Last Leaf ("I'm the last leaf on the tree, the autumn took the rest"); and from the incendiary clank'n'anger of the politicised Hell Broke Luce ("I had a good home but I left, that big fuckin' bomb mad me deaf") to the groaning chorus of Auld Lang Syne on New Year's Eve, this is a Waits album which will appease, and appeal to whatever Waits has been your preference down the many decades.

And after it all seems done, he scares the bejezzus out of you with After You Die.
Want more on Tom Waits?
Elsewhere suggests you start here.
FOR OTHER 'BEST OF ELSEWHERE 2011' ALBUMS GO HERE.