Graham Reid | | 1 min read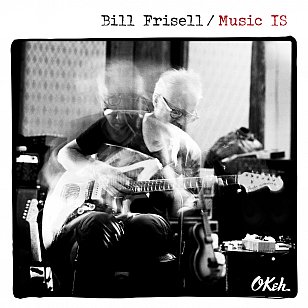 When Elsewhere profiled Bill Frisell in advance of his appearances at the Wellington Jazz festival in 2017 we headed the piece "Guitarist Without Portfolio".
And that was because – as the piece outlined – he has been claimed by and appeared in the ranks of jazz, avant-garde music and rock, played alongside the likes of Elvis Costello, Paul Simon, Brian Eno, Keith Richards and Tom Waits among others, made music along the Americana axis, has worked with samples and synths and orchestras, played material by Thelonious Monk, Ray Davies and Hank Williams (among others), recorded an album of John Lennon songs and another of Disney tunes . . .
Among his vast catalogue are recordings for ECM, albums with titles like Richter 858, Guitar in the Space Age, Music for the Films of Buster Keaton, Nashville . . .
And everywhere his mercurial and meticulous guitar seems to fit perfectly.
In that article we quoted him as saying that he was at his happiest when really immersed in music and his guitar.
In that regard this new album should find him delirious because he went into the familiar comfort of a longtime friend's studio in Portland and simply immersed himself in the solo recordings, more than half of which were new pieces.
There are beautifully reflective pieces here: Made to Shine sounds like it was adapted from a melancholy Civil War ballad (as does The Pioneers, the sound of quiet dusk on a lone prairie), Miss You is the reverie its title suggests, Monica Jane will doubtless be moved to tears by the piece bearing her name as she walks away in the closing passages . . .
There are more idiosyncratic piece like the multi-tracked and lightly country-funk Rambler (and its alternate take) which dates back to his ECM album of that title in '85, the gritty and discordant Kentucky Derby which packs a fanfare and backward tapes into two minutes, the aggressive minute-long Think About It . . .
From heartache and soul-filled reflection to flickers of out-there avant-guitar, this is a showcase of Bill Frisell's all-encompassing gifts . . . and the quieter pieces which predominate will have you engrossed.
A number of other Bill Frisell albums are reviewed at Elsewhere starting here.