Graham Reid | | 2 min read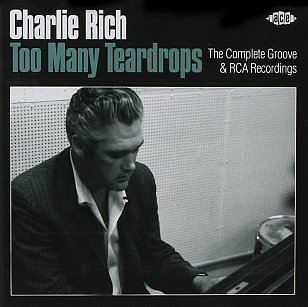 In a famous interview in San Francisco in December '65, Bob Dylan was earnestly asked about his favourite poets.
He was in a playful mood and mentioned his genuine favourites Rimbaud his pal Allen Ginsberg (who was in the audience), but also WC Fields, Smokey Robinson and Charlie Rich, "He's a good poet".
From that list most people only remember he cited (not for the first time) Rimbaud and Robinson . . . but it shows he was aware of the great songwriter Charlie Rich who by that time had enjoyed hits with Lonely Weekend, Big Boss Man (by Jimmy Reed and covered by Elvis after he heard Rich's version) and Mohair Sam (which Elvis had on repeat play when the Beatles had dropped by a few months before the Dylan press conference).
Rich – who was in his early Thirties at the time of the Dylan mention – bridged the worlds of Fifties pop, country music and Sixties balladry.
He sometimes had a gentle, piano-ballad swinging quality (as on River Stay Away From My Door here from '64) and was an effortless singer who could get barrel deep and earthy (Big Boss Man of '63, also among the 40 songs on this double CD). And you can hear why Elvis would have been a fan because many of Rich's songs in these years (most from the early to mid Sixties, a couple from the Seventies) sound like superb demos for The King: She Loved Everybody But Me written by Benny Joy and produced by Chet Atkins in Nashville; the sentimental big belter Rosanna (which cries out for Vegas); One More Mountain . . .
Rich was born into a cotton picking family outside of Memphis, grew up hearing blues and gospel, formed a band with his young wife Margaret Ann and in '58 was spotted by Bill Justis of Sun Studios where he – like Elvis – got his start.
He was almost the full package as a songwriter and a confident interpreter of many styles. But of course he was older than Elvis (he was often spoken of as Elvis' older brother), was portly and by 1960 the mode of the music was changing.
Rich – like Elvis – moved to RCA where Atkins recognised his talent.
In many ways he was in the vanguard of blue-eyed soul (his Are You Still My Baby would be covered by the Shirelles, and Lady Love here with the girlie backing vocals could have been source material for With the Beatles).
But because he could sing many styles there was little consistency in his output: Lady Love was the follow-up to Big Boss Man and there's an emotional gulf between them, and not long after he would be covering standards like Ol' Man River, I've Got You Under My Skin and Nice and Easy (which Sinatra had sung).
And of course there was always country and soul. And even touches of Mexican sounds on No Room to Dance.
In the extensive liner notes with this collection Rich would later observe that when Ray Charles' classic Modern Sounds in Country and Western album appeared in '62 that was exactly what he had been doing.
To the audience of the day, it came as more of surprise that Charles, a black artist, would cover white country than that a white artist like Rich could be so soulful.
After this period he would once again enjoy country and crossover hits with Behind Closed Doors, The Most Beautiful Girl and A Very Special Love Song.
Some of the songs here are overly orchestrated or swamped by the backing groups (Tomorrow Night, The Grass is Always Greener and others suffer from the latter) and there is often a schmaltzy and sentimental quality to his choices . . . but Charlie Rich's wonderful voice comes through everywhere.
Not the poet that Dylan wittily would have had you believe (and the second disc here offers songs which are more laboured than inspired), but a fine singer whose records in the Sixties might have been placed in the country, jazz, pop or soul sections.