Graham Reid | | 1 min read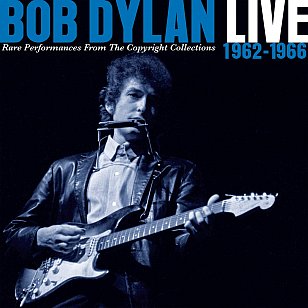 When Bob Dylan plays
two concerts in New Zealand in late August
, it will probably be a sore test for those who remember the young folkie or the electrifying figure he was in the mid Sixties. With his road-worn voice and distinctive approach to reconfiguring his classic songs his concerts can be as exciting as they are bewildering. Or irritating.
Part of the enjoyment is in the unexpected.
One thing we can say unequivocally is that he won't sound anything like he does on this 29-song double disc which is subtitled "Rare Performances from the Copyright Collections".
Which means early work from '62 at Gerde's Folk City in New York (an early hearing of Blowin' in the Wind which sounds polite and tentative, and the old standard Corrina Corrina) though his classic early songs like Don't Think Twice, Masters of War, Times They are A-Changin', Mr Tambourine Man and It Ain't Me Babe . . . alongside seminal pieces like the powerful anti-war John Brown (at the NY Town Hall in '63) Seven Curses, Lonesome Death of Hattie Carroll (still moving), Girl from the North Country and Chimes of Freedom.
Joan Baez joins him for When the Ship Comes In recorded at the March on Washington with Martin Luther King.
Days long gone of course, but many of these are cornerstones in Dylan's career and the history of popular music. And his delivery is clearly enunciated and melodic despite the occasional nasal whine.
Few artists could have powerful material like Blowin' in the Wind, Masters of War, Hattie Carroll and It Ain't Me Babe among their juvenilia.
The second disc is where the tectonic plates of popular music started to shift. There are solo performances here – eight of the 13, among them the 10-minute plus Desolation Row which is spellbinding – but interest probably alights on those with a band (Robbie Robertson, Al Kooper, Harvey Brooks and Levon Helm on Maggie's Farm in '65 at the Hollywood Bowl), with Mike Bloomfield and others on It Takes a Lot to Laugh, and the core of the Band (Robertson, Garth Hudson, Rick Danko with drummer Mickey Jones) for the final four: Baby Let Me Follow You Down, I Don't Believe You, Ballad of a Thin Man and Visions of Johanna (the last two clocking past seven minutes).
A number of these will already be in the possession of serious Dylanologists (many of the solo pieces on the second disc from The Cutting Edge box set), others will be discoveries and even revelations.
What is fascinating is just how the live "electric" songs seems so approachable when removed from the controversies of their time. Everywhere are powerful lyrics and sometimes beautiful songs (Love Minus Zero/No Limit).
As a showcase of Bob Dylan's musical diversity in these early years this does the job admirably, and is probably a useful primer for those who either weren't there, weren't listening or don't get the fuss over this old guy coming to town whose name they are familiar with . . . but aren't sure why they should know it.