Graham Reid | | 2 min read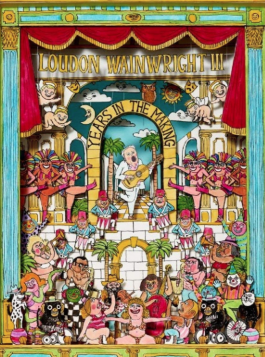 Even longtime fans of this enormously prolific songwriter – who has often performed open-heart surgery on his failed relationships, family, psyche, politics and every damn thing – find it hard to explain him to outsiders.
He's almost a documentarian – he appeared on MASH as a singing soldier, did weekly political songs on NPR – but also comedic (his early albatross was that Dead Skunk song), satirical and cynical.
He's always interesting and doesn't spare himself.
As a young man he sang about the desperate life on the road and picking up woman ("come up to my room and save my life") and loneliness, and how he was hailed as "the new Dylan" just because he was folk singer with a guitar.
This double disc picks up a swag of marginalia, live shots, bootleg recordings from concerts and more – as a fan I barely recognised a title.
It traces him from folkie (covering Dylan's You Ain't Goin' Nowhere at home with then-wife Kate McGarrigle) through his Rocking Out material where the pace, the cynicism, anger and dispirited edge really come into play: "A few year's back I was the cat's meow . . . they're saying I was a flash in the pan" on 2 Song Set; and You Hurt Me Mantra ("wait and see, you're gonna be sorry")
There's also the funny and literal Cardboard Boxes – recorded live – about moving house, and the hilarious I Wanna Be on MTV done at home in the early Eighties with cheap beats and an archetypal rock guitar solo.
Wainwright can also touch very raw and sensitive places (Your Mother and I to his children about his separation from Kate) and Teenager's Lament ("nobody asked me to come here . . . I came here because I have to . . . if I wanted to I could leave").
One the second disc there are selections under the headings Love Hurts: impending death and illness have often been his concerns but in a cruelly funny way, You Can't Fail Me Now and Rowena – the latter based on love letters from 1918 – are lovely.
Then it is in to Miscellany (some excellent live cuts including his take on Richard Thomson's Down Where the Drunkards Roll), Hollywood (he appeared in Knocked Up and wrote material for it) and The Big Picture: God's Got a Shit List ("and I'm on it"), the bleak Thank You Mr Hubble "for your telescope . . . we're just so insignificant, what's the point?" and It Ain't Gaza which puts a domestic dispute and being broke etc into perspective.
Wainwright is enormously respected by his peers and among the players scattered across these 42 tracks are Bill Frisell, Greg Leisz, David Mansfield, Van Dyke Parks, his children Martha and Rufus (on the witty Meet the Wainwrights), and an "unknown canine presence" on the occasion of his 40thbirthday with the kids singing him Happy Birthday and his own cute Animal Song . . .
Right at the end are his lovely farewell-to-life letter Out of This World (which he wrote decades ago and he's still here) and the hilarious paean to himself on Birthday Boy.
By its very nature this is a great wedge of Loudon Wainwright III, which comes with a 60-page booklet with art by New Yorker cartoonist Ed Steed and musings from Wainwright.
It's probably not the best place for the curious to start, but those who have always found him funny but brutally honest to the point of being uncomfortable will enjoy this off-the-radar autobiography of rare, unreleased and sometimes dark ruminations on life, family, lost love, revenge and reconciliation.
There's really is no one quite like him.
Elsewhere has an interview with Loudon Wainwight III here.