Graham Reid | | 6 min read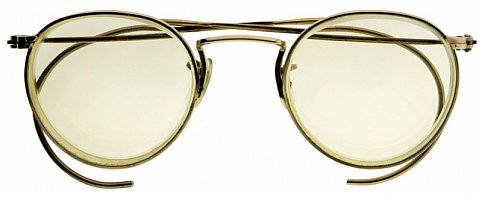 John Lennon's exceptional and essential Plastic Ono Band album of December 1970 was a self-lacerating autobiographical statement which drilled into skeletal and viscerally spare music, was courageous and emotionally naked.
It was a farewell to Beatle John and the decade his band dominated and defined.
It was imbued with anger and resentment, and in its final tracks a sense of liberation and renewal.
There are few albums like it in rock music, and none by a former Beatle.
He said, "the dream is over and now I am John", and embarked on a new decade and a new solo career.
But if the POB album was problematic for most listeners (it was more admired than played), his enormously successful Imagine album which followed was no less so, despite that paean to peace which the title track essayed.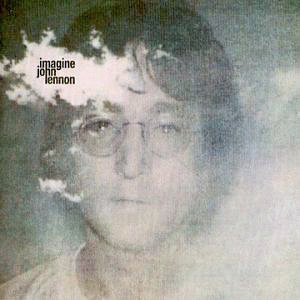 Sure, it was a bit rich for someone fabulously wealthy to invite us to "imagine no possessions" but sometimes the art transcends the artist.
And in these increasingly divisive days lines like "imagine no countries . . . nothing to kill or die for . . . no religion too" still have great appeal.
But also on Imagine was his abrasive How Do You Sleep? aimed at his former friend Paul McCartney in which Lennon – with George Harrison on guitar enjoying the savagery – said McCartney's music was muzak and he jumped when his missus (Linda) told him.
That too was a bit rich given Lennon's emotional dependency on his wife Yoko Ono.
How Do You Sleep? would be just another angry shot fired between the onetime Lennon-McCartney team and, brutal though it was, there was worse. There's an even more excoriating outtake in which the peace advocate Lennon used the c-word about McCartney.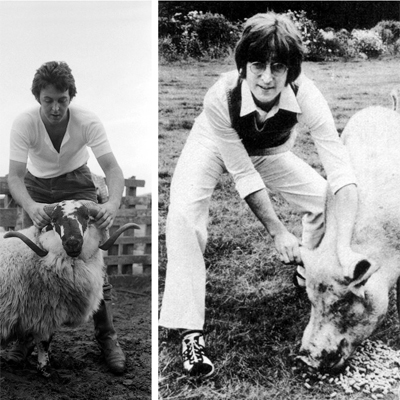 It's like overhearing a bitter divorce argument and the album also came with a postcard of Lennon holding a pig, in a parody of McCartney holding a sheep on his Ram album released some months before.
All this petty sniping was widely excused by Lennonites as indicative of the man's very human failings. Lennon said "it was about me" and weakly argued he wasn't attacking McCartney (huh?) or snickeringly later wrote the song and postcard off as a schoolboy jape.
Now, apropos of no particular anniversary – not a significant round figure since the album's release nor Lennon's birth 78 years ago – comes a number of Imagine reissue and remastered versions.
They run from a double CD and double vinyl edition (with outtakes and demos) to a massive four CD and two Blu-ray discs box set -- with a book -- which includes just about every cough, studio conversation, jam and demo you ever wanted to hear of the master at work. They cover his recordings over nine days at his home in Tittenhurst Park outside London then subsequent overdubs and such at the Record Plant in New York City.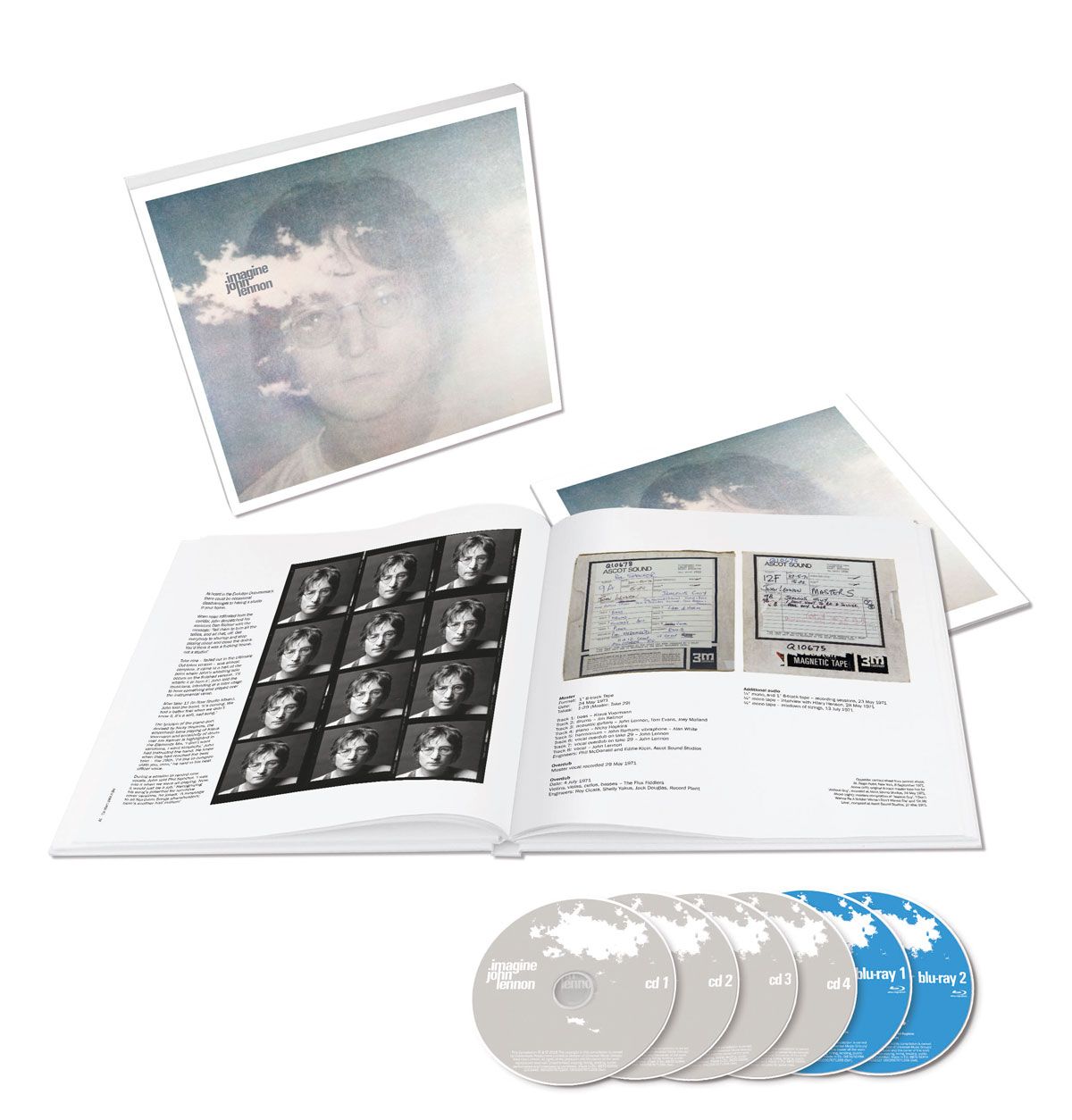 This is a great thump of the utopian Imagine (six mixes or takes, one just the strings), his snipe at McCartney (five versions), the love songs to Yoko, fury about political liars (Gimme Some Truth which may have a few dated Nixon references but still burns with indignation) and so much more.
Give the man some credit: in just two sides of vinyl – 40 minutes – between the sentimental title track and the cheery paean to the missus, Oh Yoko, which closes the album, he packed in a lot of emotions, ideas, airy pop (Jealous Guy), political rock (Gimme Some Truth, I Don't Want to be a Soldier Mama) and an honest ballad about uncertainty (How?).
Jealous Guy – the tune of which originated in '68 during the Beatles' Rishikesh retreat as a slack-thinking hippie sentiment called Child of Nature – remains a gorgeous, heartfelt ballad . . . and one of number in Lennon's Beatles' canon which addressed jealousy and pride (Run for Your Life on Rubber Soul stands out), but now with a more apologetic and mature lyric.
Musically he roamed confidently from moody rock (Soldier) to country music (the pointed Crippled Inside) and deliberately leaden blues-rock on It's So Hard with its sexual innuendo.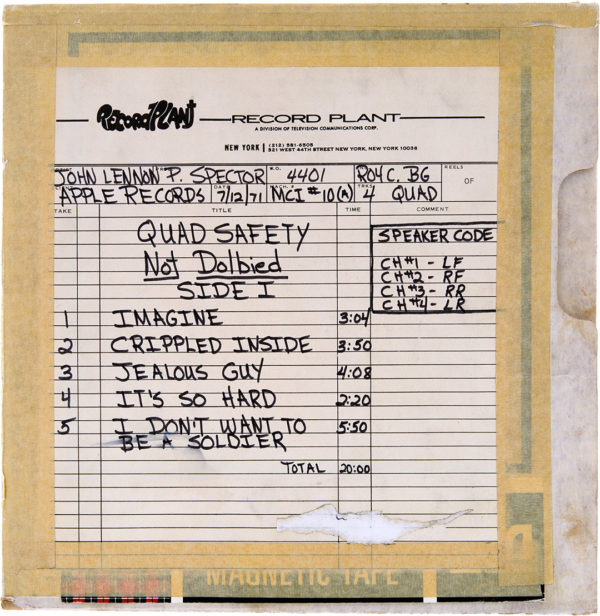 Now let it be said, the Imagine album was reissued on CD back in '90 with an expanded booklet of lyrics and photos.
So why care about this Yoko-approved and expanded Imagine?
Because – in these stereo remixes and especially on the many outtakes and rehearsals – you get to hear genius at work.
There was an excellent, tight band of friends on hand: George Harrison, an old pal from Hamburg days Klaus Voorman on bass, drummer Alan White at that time a familiar from the Plastic Ono Band and Harrison's All Things Must Pass album, and the great pianist Nicky Hopkins (Beggar's Banquet, Quicksilver Messenger Service and more).
These core players – three of the five now gone; Lennon, Harrison and Hopkins – could lock into a groove and the outtakes and rehearsals contain many revealing alternative takes.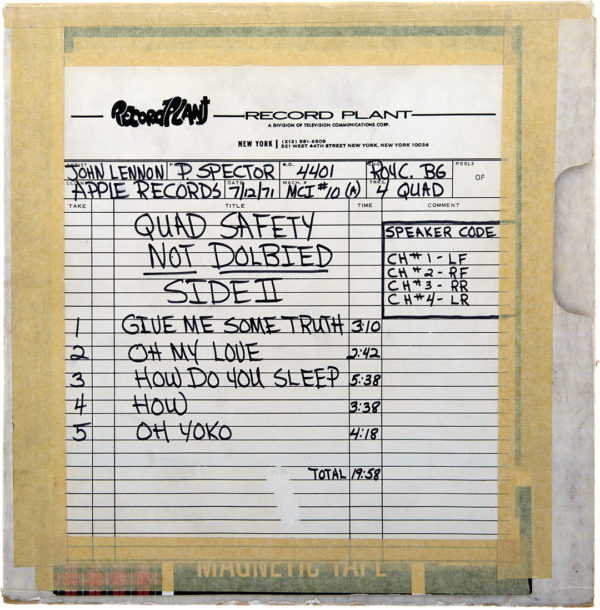 Crippled Inside may be little more than a jolly knees-up over ragtime piano from Hopkins and Harrison's slippery slide guitar but, as UK critic Paul Du Noyer pointed out, while it goes nowhere it gets there with considerable charm.
Songs such as Oh My Love, co-written with Ono, and the self-doubt of How? possess a deliberately naive melodicism – as on that POB album – which is captivating.
Attention alights then on the demos and home recordings . . . and the first version of Imagine is stunning and emotionally intimate, more so than the released track.
In an interview included he talks about the song Imagine being inspired by Ono's book of instructional poems Grapefruit and that it was actually a co-write by them but "I was still selfish enough and unaware enough to take her contribution without acknowledging her".
In 2017 Ono was officially co-credited on the the song.
The influence of her instructional poems is evident in the melodically beautiful and lyrically simple Oh My Love (which comes in a vocal-only version).
And the box includes other pieces recorded around this time – Power to the People, God Save Oz, Do the Oz and Happy Xmas (War is Over) – as well as the string instrumental parts of Imagine and How? and a hymn-like multi-tracked vocal-only mix of Oh My Love. There's also a gritty chicken-scratch funk version of Soldier.
Imagine was an album which covered a wide spread of emotion and a spectrum of music from airy ballads to grit-rock.
So, was Imagine Lennon's best solo album?
No.
That emotionally raw, soul-scouring and demanding John Lennon/Plastic Ono Band of the previous year -- where he announced, "I don't believe in Beatles," – is by far the better and more significant. But it isn't an easy ride.
Imagine, co-produced with Phil Spector, was Lennon's most carefully crafted and commercially successful album – until he was shot dead less than a decade later – and it was certainly his last fully satisfying one.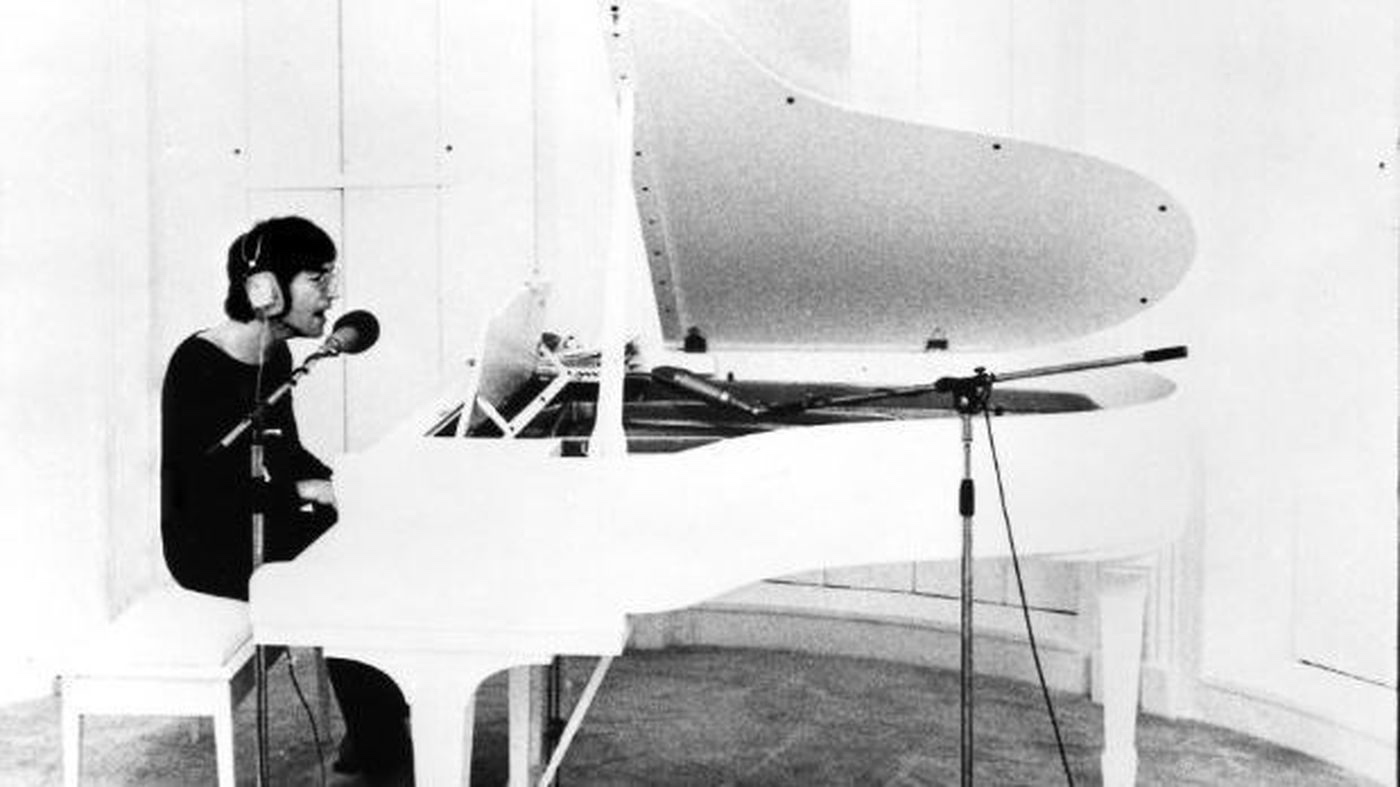 It is an aural document of a man and a time, and songwriter who could rise to the occasion and also refine down to elements of his craft.
The expanded edition – which comes with conversations from the period about the music and lyrics, audio-verite snapshots from the studio – is like eavesdropping on an artist at work (he demands seriousness in the studio, more muted lighting and musical simplicity), changing mood and perspective, finding new ways of expression . . .
Who genuinely interested in popular music and the creative process would not be curious about that?
Of course if you go for the big box set then it is quite an outlay.
Jeez, gotta have it but . . .
Imagine no possessions, huh?
For complete details of the contents of the expanded Imagine reissue see here.
There is more about John Lennon at Elsewhere starting here.