Graham Reid | | 1 min read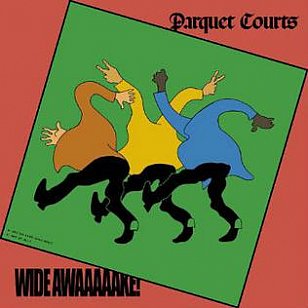 This smart New York City outfit – transplanted from Texas – has a solid following here on the basis of a couple of shows but on album they have painted some pretty haphazard pictures and in some ways this doesn't reign in their catch-all tendencies.
But with producer Danger Mouse on hand, some glistening songs like the classic dream-pop of Mardi Gras Beads, the pointed political lyrics on the slinky Before the Water Gets Too High, the tight NYC indie-rock of the early Eighties on Normalisation and NYC Obsession, and NYC-Bootsy funk of Wide Awake and others really stand out.
They also ease gently towards something approaching spaced-out prog (Back to Earth)indulge in some, elsewhere there is white-knuckle shouted word (Violence) and on Extinction they sound like they are having dark fun over a nagging pop riff.
Death Will Bring Change finds bleak humour in the bleedin' obvious.
Parquet Courts have always been smart and that comes through with clarity here on songs like the pop-rock of Freebird 2: "I've learned how not to miss the age of tenderness that I am so lucky to have seen one and now I've become older I've learned how to brush over my history and how it's sequenced".
Yes, they do still sound like they have recorded a compilation of mashed-up styles – with the bass mixed into the foreground – but with stronger and more consistent songs, this one is by some way their best yet and most enjoyable. While still packing a lyrical punch.
If they passed you by previously this is a real keeper.
There is an earlier interview with singer-guitarist Austin Brown at Elsewhere here.
Parquet Courts play the 2019 St Jerome's Laneway Festival in Albert Park on January 28