Graham Reid | | 2 min read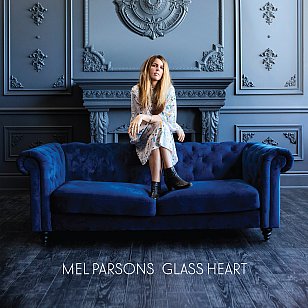 Singer-songwriter Mel Parsons has been written up and interviewed a number of times at Elsewhere but not for an album like this which is quite some leap into new and rewarding territory for her.
And there are a number of related factors which account for that: the shift from her more folk style into darker country-rock and deeply personal – sometimes emotional open-heart surgery -- ballads; the confidence that a handsome back-catalogue brings to move her forward; and being produced by keyboard player Mitchell Froom, best known in this country for producing Crowded House and Dave Dobbyn albums (as well as working with Paul McCartney, Richard Thompson, Bonnie Raitt, Elvis Costello, Peter Case, Suzanne Vega and many other A+ to B+ listers).
Of relevance here is Froom's sensibilities for a song and its setting: notably his work with Ron Sexsmith who appeared on Parson's recommended Drylands and especially the acclaimed Lindsey Buckingham Christine McVie album of last year, essentially a Fleetwood Mac album without Stevie Nicks.
So that is the kind of company Parsons is now in with this album where her vocals are deeper but still retain a yearning quality.
The opener Blame sets the mood with a spectral soundbed of guitar and organ, and her vocal is full of ennui and a hint of hurt. It's also got a helluva gripping opening line ("I blame your mother for every little thing . . .") and an eerie hook around the title.
This is adult stuff and she doesn't resile once from that position in these 10 economic songs in 33 minutes.
The closer What Would You Change is delivered with a languor close to that of mid-period Lucinda Williams and ends with her being "a thousand times happier in my head". But there is also suspended judgment.
The Froom production and American players on these sessions give her songs a real sonic presence while letting her occupy the centre of the frame (the title track), and when her voice really comes in for its close-up it is powerful and confident (Deadwood, where she shifts back to her folk inclinations).
Yes, songs like Just 'Cause You Don't Want me rings some familiar Fleetwood Mac bells in its chiming guitars, pushing percussion and the lift towards the title/chorus with its backing vocals. Come Over Lover might also conjure up the more sensual end of Mac, but yearning and the lust of love aren't theirs exclusively and Parsons persuasively owns this one.
And the double-whammy after the midpoint of the broody Dream Find (a soul-searching ballad of the kind any of the women Froom has worked with would be proud to claim) and the magical ache of Breaking are persuasive evidence Parsons really has found a new voice.
This is a fine collection of mature, thoughtful and fully realised songs from someone who has always engaged audiences whenever and wherever she has played (here and in the North America, the latter which seems her second home)
So we who have followed her thus far will simply stand back and applaud.
Mel Parsons, with the right push internationally, might be in happy danger of an embrace from the wider world.
Let's hope so.
Although it would be more rewarding if it wasn't one the few Mac-adjacent songs here which got her the deserved international attention.
.