Graham Reid | | 1 min read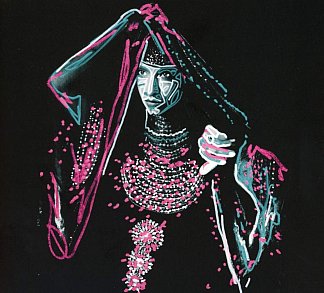 Although this trio of Dutch-Kiwi connections play at Womad next year (as they should on the back of their meltdown of world music, blues and jazzy trip-hop), the intimate nature of this album suggests they might be better seen in a smaller environment.
And happily enough they are undertaking an extensive tour starting soon (see dates below) which should take care of that.
This more trip-hop inclined series of songs – with slippery grooves, almost horizontal guitar lines and Cato Van Dijck's languid vocals (with touches on old soul, blues and classic torch singers as on the slightly-funky Supernatural Aid) and hints of various world musics – tells a story of a young woman on a journey by night through a literal and metaphorical world of mystery and adventure.
The impressively presented gatefold vinyl album runs a further explanatory narrative for each song, but set all that aside and be prepared to be seduced by the piece as a whole.
There's some seductive steel guitar, a reach back to Thirties blues-meets-dancefloor on the title track, psychedelic desert blues guitar on For a Change, a hip vibe on Shadow Dancer and In The Club. . .
A highly seductive collection and a real step into territory which is both an extension of and departure from their previous albums. And the best part might be the title of the final track: To be Continued . . .
Cato Van Dijck is interviewed at Elsewhere here.
MY BABY - NZ TOUR
Sun Dec 30 – AUM, Auckland
Sat Dec 31 - Rhythm & Alps, Wanaka
Sat Jan 5 - Blue Smoke, Christchurch
Fri Jan 11 – Meow, Wellington
Sat Jan 12 – Cabana, Napier
Sun Jan 13 - Smash Palace, Gisborne
Thur Jan 17 - Yot Club, Raglan
Fri Jan 18 – Soundsplash, Raglan
Sat Jan 19 – Galatos, Auckland
Sun Jan 20 - Totara St, Mt Maunganui
Wed Jan 30 - Luminate Fest, Golden Bay
Sat Feb 9 - Marlborough Wine and Food Fest, Marlborough
Fri March 15 - WOMAD / New Plymouth