Graham Reid | | 1 min read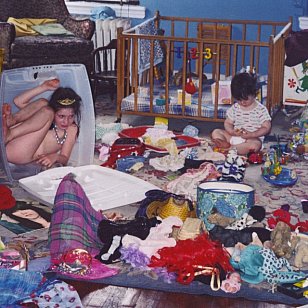 The most interesting singer-writers are those who grow and take their audience on the journey, whether it be down to their personal depths or their new-found happiness.
Of course, not all artists can effectively convey their developing persona – see the recent Deerhunter – but when the best pull it off (PJ Harvey and Jeff Tweedy spring to mind) they can be welcome fellow travelers. . . but only if they've got the songs to carry the baggage.
Sharon Van Etten – between her previous Are We There in '14 now a mother and with digressions into acting as well as study – opens here with the enormously spare and downbeat I Told You Everything which comes over gloomy, descending piano. Its central thought is of the fear/cost/grace of being openly vulnerable with someone (in this case presumably her partner) and is immediately compelling for its truth and emotional nakedness.
Not everything has such pulling power: despite its reverie Malibu later on fails to connect on a musical level but rather relies on the swathe of sounds to buoy it along and You Shadow which follows is a better piece than the distorted synths and relentless beats allow it to be. They mean that the final third starts like a haul.
But before you get that far there are some superb songs.
What carries all of this is her musical settings which are pinned down by strident and driving electronic beats (No One's Easy to Love which has a beautiful soar into the title/chorus with backing vocals) or a keen sense of a deep well of references which she makes over into her own: Patti Smith's slightly dismissive delivery on the pop-rock Comeback Kid which also has some Goth menace despite its elevating chorus; a nod to the dark bass throb of Joy Division on the evocative and brooding soundscape of Memorial Day; the unease of the early Cure on Jupiter 4; menacing folktronica/Springsteen swagger on Seventeen, her warning to a young teenager like she once was . . .
The closer Stay – seemingly about responsibility and bringing up a child in this tough world – is a lovely piece of electro-dream trip-hop which is as languid and relaxed as some of the first half is tense and claustrophobic.
It is a fine denouement to an album of maturity which plays its strong hands up early and takes you persuasively to new landscape she is now occupying with confidence.
This is a journey worth taking with her.
.