Graham Reid | | 1 min read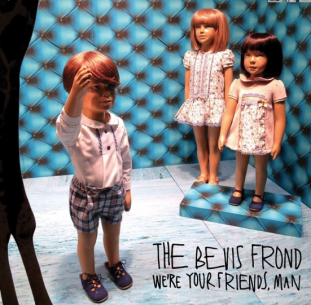 On the opening track of this album the great helmsman of Britain's the Bevis Frond, Nick Saloman, announces "this is the product of my fevered mind, this is the sound of being left behind, this is a ritual dissection of the soul, I hope that you will enjoy it. This is the twentysomething swinging disc . . . I'm not even sure it's worth a second look".
Pessimistic at all, Mr Saloman?
Elsewhere has been previously engaged by the valuable services to rock that BF/Saloman offer when we wrote up his melodic kiss-the-sky post-Hendrix psychedelic-prog.
And let's be clear about that opener Enjoy: It is no moping bedroom weepy but a fast'n'furious rocker which gets the lyrics out the way in the first half of its six minutes then embarks on a terrific, fuzzy dueling guitar second half – Saloman with Paul Simmons – which exists somewhere between amphetamine Thin Lizzy, finely focused Freebird, Dinosaur Jr and Sonic Youth (when they do such rock songs).
It is thrilling . . . if you like guitar heroics (we do).
Saloman doesn't short-change his cult following either, the CD is 19 songs across 70-plus minutes and there's an extra 13 minute one on the double vinyl edition.
As always he mixes up downbeat, acoustic-framed and self-contained contained ballads (the title track, Little Orchestras) with edgy New Wave-like pop (Pheromones) and brittle prog-miniatures (The Steeple Doesn't Reach the Sky), nods to Neil Young/Crazy Horse (Lead On, When You Cast Me Out), touches of folkadelic rock (Mad Love, And Relax) and more . . .
There are some very personal and self-effacing lyrics here beyond that opener. On Theft he reflects on fallen comrades and his past and notes, "I'm an old muso, an interesting relic, I've never been busted, so I'm not psychedelic . . . I'll play for the few while I can".
But it's not maudlin, rather than a chin raised into the prevailing winds of change.
Yes, this can frequently sound like a collection of outtakes or B-sides from some of your favourite artists, but Bevis Frond still command the attention of loyalists . . . although Saloman seems resigned to the fact that his reach may never go any further.