Graham Reid | | 1 min read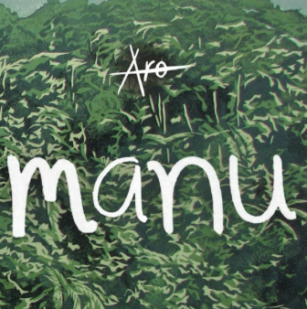 The premise here may sound a bit twee – 10 songs about New Zealand native birds, at some remove from
Dudley Benson's art music
we would add – which were written by Aro (Charles and Emily Looker) while they were traveling the country in their mobile home.
Sound a bit close to the ever-favourite Kiwi acoustic strum on a beach in summer?
And yes, there are some songs are bit like that. In a couple of places you feel this is maybe aimed more at pre-teens than adults (Kaka, the catchy acoustic strum of Riroriro which sounds ripe for a beach in summer) and the link with the birds sometimes seems very tenuous: the soulful r'n'b Kakariki, the affirmation of Weka which says "I learn from doing and if I fail the first time I'll try again"
But . . .
Frequently enough there's something very appealing going on here, notably in the songs in te reo Maori like the opener Korimako which bounces along on a Caribbean vibe with a little African guitar in the mix. It's a smart opener because it immediately undercuts expectation of something like Jack Johnson's inoffensive vibe with a local twist about birds.
In fact the musicianship through out – haunting and interlocking vocals, stick percussion, evocations of taonga puoro, touches of Latin rhythms – is clever and diverse, and there's a bit of humour scattered about: the slightly woozy Kereru which about them getting drunk on berries.
Piwaiwaka is a beautiful acoustic waiata with a lovely run-out passage at the end, Miromiro ("hold onto love") is an ear-catcher and the metaphors show a keen intelligence at work behind these.
So although native birds have provided the genesis of this album the lyrics depart into relationships and such, and the music reaches wide into some interesting and diverse areas.
Quite uplifting and different.
ARO, MANU TOUR
Feb 24th| Bunker Unplugged | Auckland
March 1st| D'vine Oasis Community | Russell
March 2nd| Whangarei Quarry Gardens |
Whangarei
March 3rd| Song Conversations | Mangawhai
March 9th| Pompallier Diocesan Centre | Auckland
March 22nd| Luke's Kitchen | Kuaotunu
March 24th| Eggsentric | Cooks Beach
March 29th| The Refinery | Paeroa
March 30th| Jam Factory | Tauranga
April 5th| Common Room | Hastings
April 6th| Joseph St Kitchen | Palmerston North
April 7th | Raumati Social Club | Raumati South
April 11th| Le Cafe | Picton
April 14th| Fairfield House | Nelson
April 18th| Barrytown Hall | Barrytown
April 20th| Cork Bar | Wanaka
April 21st| Sherwood | Queenstown