Graham Reid | | 1 min read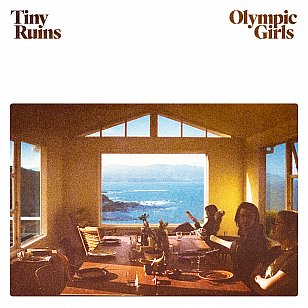 At some point in the late Sixties, British folk music got a little psychedelic, baroque and more interesting than much of the earnest finger-picking style which had preceded it. People like Donovan – on songs such as Sunny Goodge Street, Three Kingfishers and so on – found these new musical settings opened up and allowed for new avenues of lyrical expression.
Hollie Fullbrook (aka Tiny Ruins) has come a long way from her intimate debut album Some Were Meant for Sea (where we referenced Donovan) and while some things remain a beautiful constant – her gentle voice, metaphorical lyrics, a sure sense of melody – this album sees her nudge into a slightly different and just as rewarding territory. A little pastoral psychedelia, folk-pop embellished, the dreams of life rubbing up against the reality of the world . . .
The arrangements and band – Cass Basil on bass/mellotron, drummer Alex Freer, guitarist/multi-instrumentalist Tom Healy and keyboard player Finn Scholes – provide the diverse musical settings which are all appropriately lowkey but of distinct colours.
Sometimes these songs are intimately direct over her acoustic guitar (Sparklers) but at other times her dreamy confessional – as on How Much – comes with a soft psychedelic drift and a gorgeous chorus which let it become airborne.
And lyrically there is a lot going on here which can be amusingly contemporary in it references as on the hypnotic Hologram (another sliver of prismatic dream pop) where she sings of giving the grim reaper the slip "saved by a Darth Vader novelty helmet . . . How will I reach you again, when all I'm see are stars?"
That a delightful juxtaposition of silly and sublime which her assured but slightly fragile-sounding voice carries straight to the heart in a song of emotional doubt: "What begins with a whisper, it always ends with a shout . . ."
Images of stars, sky, air, sun and dreams are evident throughout but her lyrical reach is broad, into architecture (on School of Design which is a standout and its metaphor beautifully understated) and romance revealed in a laundromat which in just two compressed verses is eroded by the daily struggle (My Love Leda).
At times Fullbrook reveals a subtle cabaret-style vocal (the smoky One Million Flowers) and there are some effortlessly clever couplets throughout too: "Headlights shimmering on the rainy supreme, kids all lost in backseat dreams" on Stars, False, Fading.
The closer Cold Enough to Climb is exceptional.
Hollie Fullbrook has so far made two albums of close listening and this mature outing broadens her musical and lyrical palette while feeling as intimate as ever but also now more mysterious.
Quite wonderful.
Olympic Girls is available on vinyl with a download code, and through the usual digital outlets.