Graham Reid | | 1 min read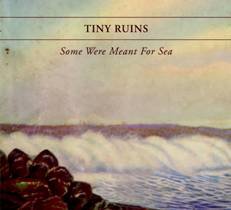 Tiny Ruins is the nom de disque of Bristol-born, Auckland-raised (from the age of 10) singer-songwriter Hollie Fullbrook who recorded these songs in "a diminutive [sic] hall, once the local school of South Gippsland's Morraya, Australia" (which doesn't appear on any map of that region south east of Melbourne that I can see, unless they mean Moyarra).

No matter, that perhaps adds another air of mystery to these remarkable songs which are mostly spare to the point of skeletal. The songs ride on Fullbrook's gentle voice which is quiet and intimate over acoustic guitar but picks she up the occasional line to lift it and command attention. So in a song like Death of a Russian, where she sketches in an allusive narrative with an almost mythical quality, the line "you would have been pleased to know . . . you're still breaking hearts" grabs you.
Fullbrook manages this subtle melodic effect throughout (in the opener Old As The Hills she imbues that cliche with new life as she wearily sings with a remarkable knowingness and empathy, "her sons were all gone, killed in battle").
And the use of "battle" is deliberate as many of these lyrics use archaisms alongside images from the contemporary world. Throughout she makes discreet references ("at night she read Cannery Row before saying goodnight to the highway below" in Adelphi Apartments which is populated by the inhabitants of the apartments) and suggests rather than states.
At times she recalls Donovan at his most quietly poetic (Priest With Balloons, a dreamlike piece about a priest taken to the heavens with lovely lines like "I want to live where the traffic controllers are ballet dancers"), at others Nick Drake (whose name you will doubtless hear a lot in subsequent reviews). And her guitar playing comes from that simple but effective sound of Dylan around the time of his first album.
With discreet assistance from cello and using what sounds like an old upright piano in places (the stately Pigeon Knows, and on the beautifully evocative You've Got The Kind of Nerve I Like where the grabbing line is "don't say those words again" with a light touch and melodic lift).
There is heart here and what feels like stolen moments in life (Cat in the Hallway, Running Through the Night "always running out of time") and Fullbrook observes the world as much as emotions, locating her stories in places of the imagination which equally sound grounded in a persuasive fabrication of reality.
This is a quiet album to be enjoyed like a fine wine or a slow warm autumn afternoon. And it will last a longer than both.
Intelligent and utterly lovely.
Like the sound of this? Then check out this.
FOR OTHER 'BEST OF ELSEWHERE 2011' ALBUMS GO HERE.