Graham Reid | | 1 min read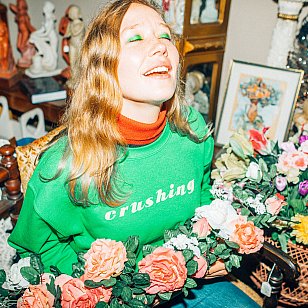 Might as well just say this straight away: the list for "best of the year" albums starts with this remarkable, mature second album by Australia's Julia Jacklin who here peels away emotional layers, takes a look through the prism at her recent life and refracts the views back through clever and often understated songs.
Since her impressive and unexpectedly successful debut album Don't Let the Kids Win of two years ago (recorded in New Zealand), Jacklin has enjoyed and endured the touring life where on the road discomforts, men overly keen to have physical if not intimate contact (the dark pop of Head Alone which builds itself into a righteous fury of rage and guitars), a relationship breakdown (the broody opener Body), well-meaning friends wanting to drag her out of the necessary reflection to simply dance the heartache away (Pressure to Party which looks back to Fifties pop from an indie.rock musical perspective) . . .
That's a lot of personal (but also universal) information, and those are just the first three of the 10 originals here.
There is some exceptional and rare insight here: Pressure to Party runs counter to all those songs about "good, you're gone"; Don't Know How t Keep Loving You is a dreamily sad and thoughtful reflection on trying to keep the flame alive as the relationship matures (and how she feels the pressure on her to do so, as many girls and women do), and it comes with a leisurely Neil Young-like guitar solo: "What if I cleaned up, what if I worked on my skin . . ."
The final track, the lowkey acoustic Comfort, weighs up feelings after a relationship has faded and offers a weary optimism that this too shall pass but also respects the pain that people feel even if it is them who ended things: "He'll be just fine, hurt for a while, cure it with time . . . you can't be the one to hold him when you were the one who left . . ."
Elsewhere she weighs up the funeral of a friend on the piano ballad When the Family Flies In: "You know it's bad when the family flies in, working bees back to the hive . . ."
These are sophisticated thoughts realised in refined lyrics and married to music – from tight guitar textures (the rocking You Were Right) to front-parlour acoustic solitude – which matches the prismatic moods.
A quite remarkable album under a neatly ambiguous title.
Julia Jacklin's Crushing is released on Friday February 22
TOUR DATES
Wed 27 Feb – Blue Smoke, CHCH
Thu 28 Feb – The Cook, Dunedin
Fri 1 Mar – Hollywood Avondale , Auckland
Sat 2 Mar– San Fran, Wellington