Graham Reid | | 3 min read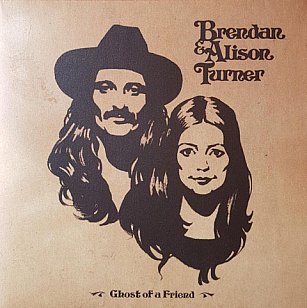 This simply recorded debut album by a duo from rural Northland could almost have come from the early Seventies when this kind of unadorned, honestly-realised acoustic country-folk – in similar gatefold cover with lyrics – were a commonplace.
And in their promo sheet they acknowledge as much: "There is something timeless about those late 60s and 70s albums . . . the sound we heard could only exist on vinyl".
Of course a reference to "whiskey and Tramadol" in the opener Dirt in the Blood links both past and present.
The title track is however a key touchstone, the Turners were close friends with the late Sam Prebble (Bond Street Bridge) whose suicide in October 2014 sent a shockwave through the music community which knew and loved him as a gifted, gentle soul and whose projects were always intelligent and engaging. He contributed to Elsewhere here.
Brendan Turner played bass in BSBridge – he met Alison at one of their gigs at the Wine Cellar in Auckland -- and Prebble was best man at their wedding.
As with many of Prebble's friends, his sudden death sent them into solitude and shock, and this album eventually formed out of acoustic songs written during that period.
That title track avoids sentiment but rather portrays the dark numbness many felt: "Ghost of a friend got me on the run, ghost of a friend is a loaded gun . . . every town you wish was different is the same, every town you wish was the same has changed . . . I can't even say his name"
That spirit infuses Shine a Light also: " Death come a courting on my doorstep again, shining a light on me . . ."
But as acoustic troubadours on the road there is also constant movement in the sometimes sprightly country-folk: Railway tracks, the ribbon of black tar ahead, the centreline, gears in a grind . . .
The road offers escape, but also takes the traveller though damaged landscapes as on Lady Luck: "If you want your hard heart broken walk this weary land with me, jackrabbit running in the open across the saddest land that I ever seen . . ." This Guthrie-like imagery can also be the barren land of the heart, of course.
The songs circle grief as on Picture in a Frame ("This room is empty once again since I took your picture from the frame") and Dirty Tears ("Dirty tears I cry, you're another day gone, goodbye . . . went on to chase the restless road, went on to face the ageless stranger . . .")
Recorded at Revolver, these eight originals – not all melancholy, but that is certainly the overriding tone – are emotionally raw, deliberately underdressed and death does indeed shine its light.
The intimacy of the venues they play on their forthcoming tour (see below) will doubtless bring these songs and sentiments home even harder.
This independently released album is available on heavy-weight vinyl in a gatefold sleeve through good record stores, and also through digital outlets.
Brendan & Alison Turner: Ghost of a Friend Tour 2019:
Saturday March 30 - Flying Out Instore Performance, Auckland
Saturday March 30 - Wine Cellar, Auckland
Sunday March 31 - Leigh Sawmill, Leigh (afternoon show)
Wednesday April 3 - 4th Wall Theatre, New Plymouth
Thursday April 4 – Moon 1, Wellington
Friday April 5 - Mad Cafe, Collingwood
Saturday April 6 - Dharma Bums Club, Wairau Valley Marlborough
Sunday April 7 - Music & Arts Centre, Hanmer Springs
Thursday April 11 - Gin & Raspberry, Wanaka
Friday April 12 - Sherwood, Queenstown
Saturday April 13 - Dog With Two Tails, Dunedin
Sunday April 14 - Blue Smoke, Christchurch
Wednesday April 17 - The Playhouse Theatre and Restaurant, Mapua
Thursday April 18 - St Peter's Hall, Paekakariki
Friday April 19 - Sitting Room Sessions, Haumoana
Saturday April 20 - Kumeu Live, Kumeu
Sunday April 21 - Piha Bowling Club
Thursday May 2 - Jam Factory, Tauranga
Friday May 3 - GBD, Thames