Graham Reid | | 1 min read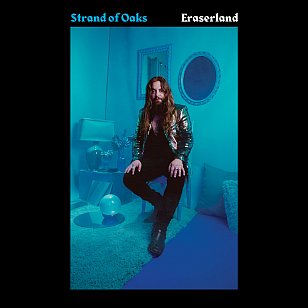 Tim Showalter who is Strand of Oaks (that's also the band name) is very Old School when it comes to rock: he likes the dramatic chorus, the ascending guitar line, cannoning drums, the melodrama of life, the idea that this music can be personally cathartic and a shared experience . . .
He's post-Seeger, post-Springsteen, post-Nirvana, post-most things. You can hear early Teardrop Explodes being shouted into the grunge-abused cosmos at times (Hyperspace Blues here) and then he drops back into a confessional ballad of the post-tour homecoming and attendant depression (Keys).
Showalter – who is an interesting interview also – isn't on any mission to find new frontiers to conquer because the map of the past and his own troubles are rich enough for exploration, not to mention the present where he has been hailed for his two previous albums, HEAL and Hard Love.
Yet the success left him hollow and that is evident here in songs like the emotional roar and reflection of Visions about taking himself away afterwards to wi9ntery beach in New Jersey, and the rage, frustration and uncertainty which consumed him (after the harrowing open-heart surgery it concludes "I swear I won't go down so easy").
But woven around the soul-baring in these songs which have powerful pop-rock drive there are flashes of self-deprecating humour which perhaps need to be chivvied out. (And not a few references to drugs.)
And he still isn't averse to writing a thumping and accomplished slice of mainstream stadium rock (Ruby) before going downbeat for the final songs: the Celtic-influenced ballad Wild and Willing, and the gospel-cum-holy synth title track which soars with prog-like melodic optimism to the close then the weary nine minute-plus Forever Chords. (There is also the 17 minute sonic landscape instrumental Cruel Fisherman online after that, which will be a bridge too far for most.)
This slightly uneven and unrepentantly Old School album – with contributions and support from various My Morning jacket pals – requires some empathy for Showalter because it is so personal in its lyrics, but as always he provides the bedrock music to support it.
If you got him on Hard Love this is the petite mort, post-tour depression and the recovery in a cycle of songs which touch lows now understood and a look down the long road ahead with something approaching hope.
That's quite an achievement.