Graham Reid | | 3 min read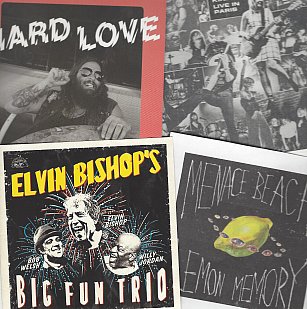 With so many CDs commanding and demanding attention Elsewhere will run this occasional column which scoops up releases by international artists, in much the same way as our SHORT CUTS column picks up New Zealand artists.
Comments will be brief.
Strand of Oaks: Hard Love (Dead Oceans)
Further proof never to judge an album by its cover; the tattooed biker and jagged lettering here would suggest something with a metal edge. But Strand of Oaks is the project of singer-songwriter/producer Timothy Showalter from Philly who channels facets of heroic Springsteen/Killers (the title track), searing but widescreen alt.country (Salt Brothers), electrostatic dance-pop from the Eighties with meaningful lyrics (Radio Kids), gloomy shoegaze (Everything), angry and disturbing rock (Quit It), a gentle piano ballad with an appropriately windswept outro (Cry), Britpop/Stones-influenced guitar rock (Rest Of It) and more, often with a psychedelic spin-off, notably on the eight minute closer Taking Acid and Talking With My Brother.
There's something oddly appealing about this collection of diverse songs which plays out like the giveaway cover CD compilation which comes with a glossy rock magazine.
Worth checking out.
Rest Of It, by Strand of Oaks
Sleater-Kinney: Live in Paris (SubPop)
Since they resumed service in 2014 after an eight year break, S-K have been on a real high, as witnessed by their 2015 No Cities to Love album which was arrestingly good and with no discernible diminution of their power or commitment. Shows have been equally hailed and this set captured in March 2015 – two months after No Cities' release, some of its songs favoured in the first half – is a furious, frequently thrilling reminder of just how powerful, fist-pumping and exciting S-K are when the worlds of punk, grunge, power-pop and riot grrrl attitude collide.
the breakdown at the midpoint of What's Mine is Yours with feedback and guitar howl is perilously close to classic Blue Cheer . . . but these women are their own bosses, even when nodding to the Ramones and others along a similar wavelength.
A play-loud 13 desperate-sounding songs in just 48 fly-by minutes (in a cover like a bootleg) which rarely give you a chance to take a breath. "Throw me a rope . . ."
Surface Envy, by Sleater-Kinney
Menace Beach: Lemon Memory (Memphis Industries/Southbound)
Menace Beach are Liza Violet and Ryan Needham from Leeds who here fire off 10 fuzzed-up indie-pop with a smattering of shoegaze drone (which seems to be making a welcome comeback) as on Suck It Out and the more dreamy, six minute closer Hexbreaker II. They ameliorate the noise with memorable choruses and the dark end of the spectrum (Maybe We'll Drown) with massive hooks.
The songs driven by hammered drums and some seriously large guitar strum'n'twang, are adrenalin-inducing but don't head out to unexplored pastures, however – alongside the shoegazers -- the spooky synth/organ and electronic drums on the title track (with distorted and distant vocals) and wilfully minimalist guitar on slower Darlatoid capture more serious attention.
By all accounts this second album is a marked departure from their Ratworld – more pop, her more to the fore – but across the whole programme you are seduced by songs, and sometimes just aspects of them, rather than the whole.
Give Blood, by Menace Beach
Elvin Bishop's Big Fun Trio: Elvin Bishop's Big Fun Trio (Southbound)
For most people Elvin Bishop's biggest moment was way back in '75 with the radio hit Fooled Around And Fell In Love with the Elvin Bishop Band, but many to this day probably still think Bishop was the guy who sang it. That was Mickey Thomas (who moved on to Jefferson Starship) and Bishop was the guitarist.
And what a helluva blues guitarist he has been since he emerged in the Paul Butterfield Blues Band in the Sixties. For most of the time since then he's been on the road, recording albums (a number for Alligator) and never getting much recognition outside of the blues world – where he had multiple nominations and wins for various awards – until his recent induction into the Rock and Roll Hall of Fame.
This enjoyable 12-song house-rocking collection finds him with other senior statesmen drummer/singer Willy Jordan, his longtime band member pianist Bob Welsh and guests like harmonica players Kim Wilson, Charlie Musselwhite and Rick Estrin. Their pleasure in each other's company is palpable and this feels like a real Saturday night album somewhere down South (they push that idea a little too much in the intro to Let's Go and force the food'n'booze party fun on That's What I'm Talkin' About).
Digging into the familiar (It's You Baby, It's All Over Now, Let the Four Winds Blow) alongside originals which have genre recognition, this may not reset the parameters of juke-joint blues. But it's rough-edged and damn hard to dislike.
It's All Over Now, by Elvin Bishop's Big Fun Trio