Graham Reid | | 1 min read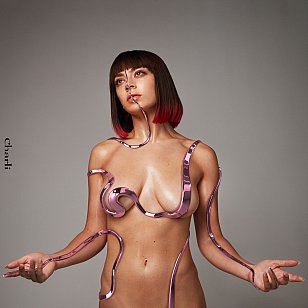 It seems a quaint old time when artists had to perform on others' albums under pseudonyms or anonymously.
Now just about every pop and r'n'b album is a celebrity collision and – ironically under just her own name – here singer-songwriter, multiple award winner and nominee, Charli XCX (Charlotte Aitchison from Essex) is a collaborator nonpareil.
Across these 15 songs in 50 minutes are Troye Sivan (twice), Christine and the Queens, HAIM, Lizzo, Clairo and others. There are also 15 producers credited (that includes her and co-writer AG Cook as executive producers, so actually just 13) and, to quote the press release, she teamed up with "AR makeup artist Ines Alpha to design her artworks with a goal of dismantling classic beauty ideals, a pairing which resulted in her striking album cover".
Agreed on the "striking", but does this dismantle classic beauty ideals?
Still people say anything these days so we'll just leave it at that.
It could be like a Where's Charli? album but there's no denying how clever all those producers are, how she hits a persuasive yearning-pop quality of songs fine-tuned for maximum electro-pop impact through big hooks and the substructure of beats pulled to the fore like a carapace, some sass and swagger (Blame It On Your Love with Lizzo), some nostalgia in a world moving too fast (the clever 1999 with Sivan), some surprising understatement given she occupies a culture obsessed with "bangers" and some hefty techno sounds and sonic effects which thrust this into a world of androids and light-industrial emotional dislocation.
It also however, deploys every trope in the genre (the hideous cliched Click), and some unnecessary AutoTune (February 2017 with Clairo and Yaeji).
Sometimes they are hard to get past . . . but at its best this is a snappy, classy, hi-sheen contemporary pop album which is just raw enough to be interesting over the overlong haul.
You can hear Charli at Spotify here.