Graham Reid | | 1 min read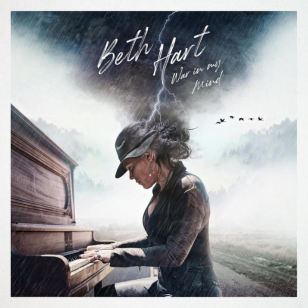 Let it be said clearly: the 2015 Powerstation concert by American soul-blues singer Beth Hart was one of the most enjoyable, gripping, cathartic, vocally impressive and sometimes very funny and heartfelt shows that Elsewhere has seen in the past five years.
Hart – coming off the back of her exceptional and personal Better Than Home album – sang with the raw power of Janis Joplin and the soul of Billie Holiday, was grateful for still being around after years of self-abuse through drugs and such, and gave just enough of herself to be revealing but kept as much back for herself.
That Better Than Home album was in our best of the year list, and we've picked up albums where she has sung with blues guitarist Joe Bonamassa. We also interviewed her in 2000 when she was starting her recovery and 2015 when she was on top of everything.
So Hart – whose backstory is told in those interviews and reviews – is one we are always going to give a fair hearing to, and this time out there's a real dollop of gospel soul (the soaring Let It Grow with a choir) alongside tough but sassy rock'n'soul belters (Bad Woman Blues) and the deeper moods from the older tradition (the title track with its chilly lines "blood on the walls, I threw my blood on the walls" in a manner that echoes a contemporary Holiday).
There are some upbeat tracks here (the driving Spanish Lullabies) but she is at her most lapel-grabbing on slow, classic ballads like Without Words in the Way, the cinematic Rub Me For Luck (which for many will be too close to an overwrought Bond theme) and the heartbreaking apology to her late sister on Sister Dear.
And the uplifting Thankful pretty much sums up where the 47-year old Hart is at in life these days.
This isn't the great Beth Hart album that Better Than Home was, but it confirms her reputation as one of the most powerful and distinctive voices out there . . . and Elsewhere would crawl under the barbed-wire to see her in concert again.
You can hear War in My Mind at Spotify here.