Graham Reid | | 1 min read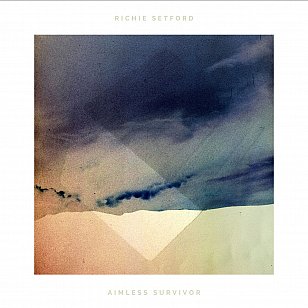 Berlin-based these past five years and previously using the moniker Bannerman which he carried across
a number of albums
, extpat Richie Setford steps out again under his own name (after his earlier EP
Hardly There
) with this further installment of his downbeat, ennui-affected songs captured in this collection's title and the slow, beautifully realised title track.
Setford however has a very subtle way a discreetly uplifting melody, as on the more upbeat sounding A Peach on a Tree ("one day the earth won't be here") and especially on the airy, dreamy pop of the Body of Drone (which sails close to some lovely Beck tunes and his sense of spiritual reinvention) before the gritty guitars and tension which takes out the final minute.
Explore the New Tongue is kind of dark glam-rock exploration of spiraling depression in this age of uncertainty.
And he brings a glistening musical beauty (guitar, descending backing vocals) to the disconcerting lyrics of Life Right Now which would be depressing without that setting: "I live with total strangers, I watched you defecate outside the Bürgeramt, I don't communicate the secrets of my heart. You spat on me at New Years . . ."
He's not going to get gainful employment with any German tourism department, that's for sure.
These are ruthlessly honest and personal statements given engaging musical accompaniment from violin, cello, acoustic guitars and flute.
No more so than on the understated folk of the whispery Fist of It: "I have travelled, in love I've gambled, I've shared my life, I survived that ride. I've been writing since '89 and it drives me still, I hope it always will. Don't be scared watching me aging, an old man knows how to fall. But I can't escape the baby I once was . . . ."
Lovely.
Setford is a analytical documentarian of his life and emotions, and if it sounds like he's emotionally adrift he makes poetic songs out of it which aren't self-pitying.
That's rare.
You can hear and buy Aimless Survivor from Setford's bandcamp page here (with a download/limited edition cassette option)