Graham Reid | | 2 min read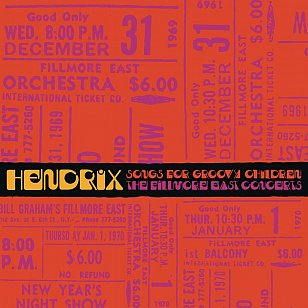 The Jimi Industry shows little sign of slowing down and since
Eddie Kramer
– his longtime engineer and designated producer of posthumous albums – announced the vaults of studio recordings were now emptied, attention has turned to releasing live sets.
And lord knows there were enough of those in his short lifetime.
Many of course have been released (about 30, some multidisc sets)
And it's worth noting that while this five CD/eight vinyl albums box collects his four sets with his new group Band of Gypsys (bassist Billy Cox, drummer Buddy Miles) at the Fillmore East on New Year's Eve and New Year's Day 1969/70, quite a few songs will already be in Hendrix' fans collections on various albums.
In fact, a quick scan suggests perhaps fewer than a dozen are previously unreleased although a few others appear in their entirety.
What this does have the benefit of is that these concerts are now presented in their mostly unedited (but remastered) state, and of course we are hearing Hendrix and band become more confident about the new material like Earth Blues and his favourite Hear My Train A Comin' over the four shows.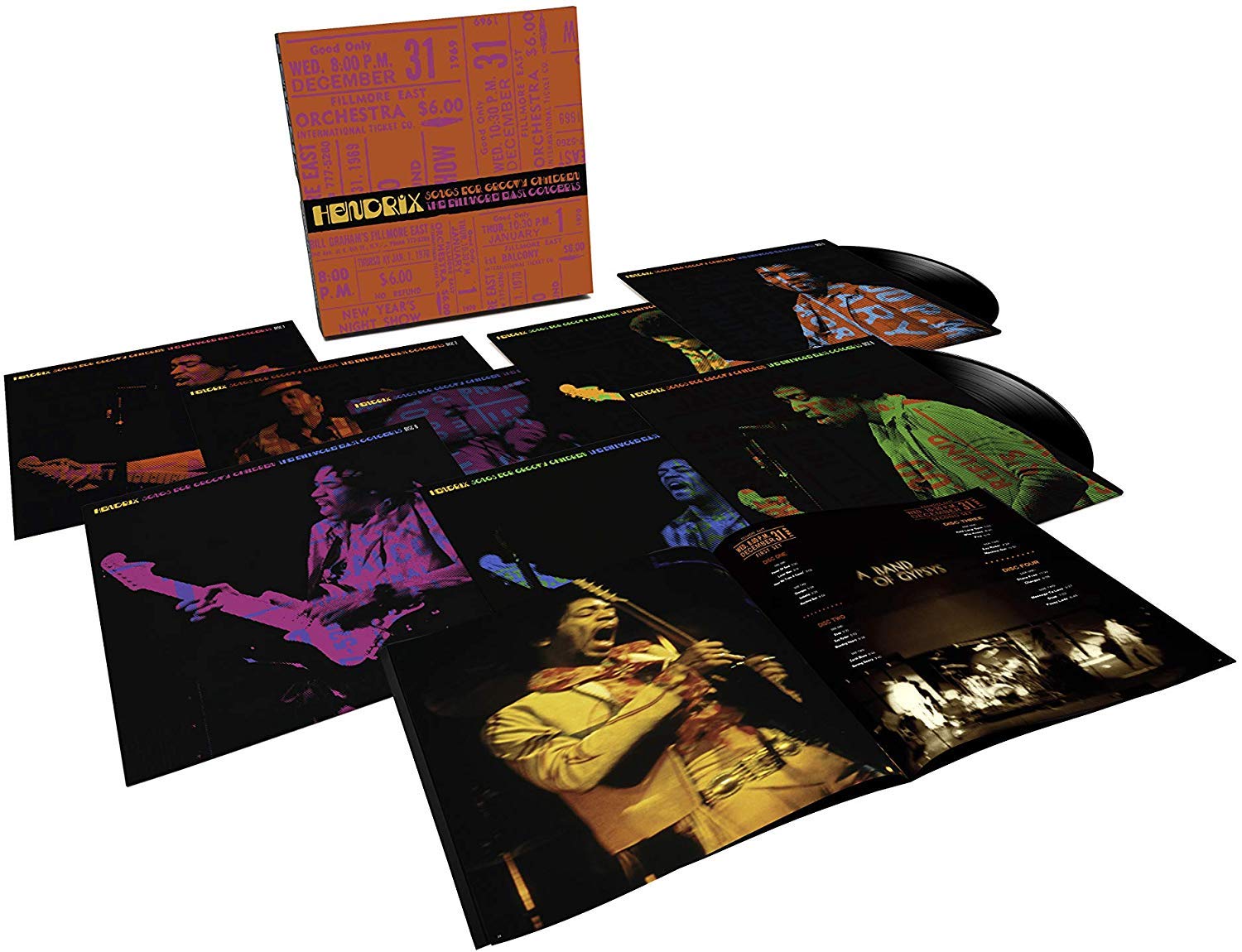 Few serious Hendrix fans can get excited about Buddy Miles' songs such as the soul-funk Changes which seemed like a throwback when the leader was moving forward, but Hendrix whips out wah-wah and shoves them up a notch.
The concerts' centrepiece on three nights (early up at one) was Machine Gun which is stretched and pulled in different ways every time.
And that is why Hendrix fans still line up for these sets, just as a jazz fan will want to hear every concert by John Coltrane.
Hendrix brought a different mood and approach every time and even when you think he might go through the motions, for example Foxey Lady or Purple Haze at the end of set, he still managed to find something new in them. Even though he had tired of them some time previous.
And yes, some of this suffers from the usual problems of live concerts where there are limp passages where everything gets stripped down to bits of noodling not-much and far too much cheerleading by Miles.
Given the season, Hendrix also has a little fun (a furiously distorted Auld Lang Syne as the New Years comes in) and throws in a reference to Cream's Sunshine of Your Love (which he enjoyed playing) on the 17 minute improvised Stone Free (with a drum solo!).
You just wish for a Mitch Mitchell or a Ginger Baker to be there pushing Hendrix further rather than the rock solid but serviceable Buddy Miles who makes odd and uncalled for vocal contributions sometimes.
This is a lot of live Hendrix, even for those who have a wedge of it on their shelves . . . but it seems there is an insatiable market for this guitar genius, rock improviser and unique talent.
Even if you have very little live Jimi this will probably be too much for you, but here's why people still love hearing him half a century later.
You can hear Songs for Groovy Children at Spotify here
There is a lot about Jimi Hendrix at Elsewhere starting here.