Graham Reid | | 1 min read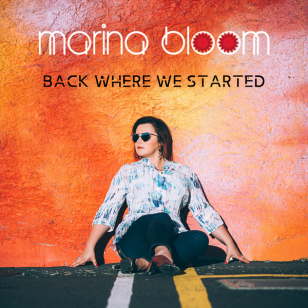 Very few artists bother to release an album at this time of year because there's just nobody around, the country is on holiday.
That said, it is also counter-intuitive to deliver your album in this dead-air time because there is so little competition for attention.
So let's tip the hat to Marina Bloom (who previously appeared at Elsewhere here) and this new 12 song album where her powerful voice once again impresses on songs which sit along the axis of Seventies power ballads, contemporary artists with deep roots like Adele and (at a push) Yola, heroic songs from musicals and a constrained Kate Bush as filtered through Classic Hits (Celine, Elton, Genesis etc) radio.
Bloom is a Russian-born singer living in New Zealand who sings traditional songs with her Russian choir Singing Nations.
But out under her own name she often favours the swelling, classic pop structure . . . and songs like Lions Fighting in a Church have a powerful emotional and melodic grip. You can almost envision a theatre production it would fit into, one with a socio-political dimension.
Bloom's lyrics also have something mature to say (check Fragile and Fragile for starters) and these come with strong arrangements for strings and rock guitars.
Not Another Ballad certainly isn't that, it's a driving and emotional, sonically swelling pop-rocker with a huge dance factor.
Coming Home's lyrics have a universal, Taupin-like quality ("it's a long way from the Troubadour to the Land of the Long White Cloud and when you don't know what you're looking for it's pointless leaving town"), a talent also deployed on Greetings from Sydney.
And for the closer Three Sisters she neatly abandons English to remind us of her background.
Marina Bloom doesn't make youthful pop music but rather goes directly to a more mature audience which can appreciate that My Heart Will Go On is actually a great song, that songs from musicals have merit beyond the stage and that mainstream music like this can have as much sinew, muscle and emotion as much as any indie.rock.
Mainstream audiences and radio might want to settle in with this, it's an album of the old kind. And that is a compliment.
You can hear Marina Bloom at Spotify here