Graham Reid | | 1 min read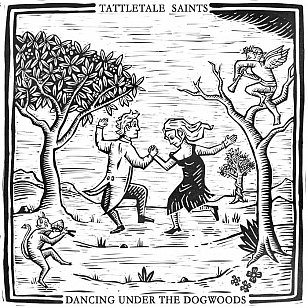 Recorded with supportive friends at the same Nashville studio as their debut How Red is the Blood (winner of Folk Album of The Year in 2014), this new album by former partners
Cy Winstanley
and bassist/singer
Vanessa McGowan
comes five years after they relocated to Nashville where they are making their separate ways as "side players but still performing as Tattletale Saints.
With a similar low-key approach, concise and melodic tunes with wry or personal lyrics as their previous two albums, Dancing Under the Dogwoods also considers the American social climate which has changed dramatically since they settled there.
One And The Same is a melancholy lament: "I used to call you 'brother' . . . but somewhere all that has come under attack . . ."
In the country music scene Winstanley has encountered many from conservative church backgrounds, so certain subjects are off-limits: "You can be similar in so many respects, then a conversation comes up that touches on political things and it's so divisive."
Elsewhere on the album, Winstanley again reflects the style and delivery of a post-Garfunkel, solo Paul Simon, notably on the light cajun swing of Bobby Where Did You Learn to Dance? and the sly D.I.N.K. which is a dig at McGowan who Winstanley says is proudly double-income-no-kids.
There are gentle love songs – Honest Work, My Loving Doesn't Cost a Wish – alongside more upbeat material as on the title track, Bobby Where Did You Learn to Dance? and A Man Ain't Working, all of which you imagine would play well in cajun bars with people up doing the two-step.
The album also features their live favourite, a downbeat version of Abba's Dancing Queen which finds the emotional emptiness in the soul of central figure.
The final track Here At Last celebrates how successful their move to Nashville has been: "The dream we had is in our grasp".
This is a comfortable album and although Winstanley has a pleasant voice and writing style which will never shake the Simon comparison, there's a summer ease throughout which means it will doubtless be touring well around the country at present.
This album is available on Spotify here
Tattletale Saints tour dates
FEBRUARY 2020
1 BARRYTOWN HALL
2 OKARITO DONOVAN'S STORE
5 WANAKA BAR NUMBER 8
6 INVERCARGILL SOUTHLAND MUSICIANS CLUB
7 DUNEDIN 50DUNDAS
8 OAMARU SCOTTS BREWING CO.
9 CHRISTCHURCH BLUE SMOKE
12 WHANGANUI MUSICIANS CLUB
13 PALMERSTON NORTH THE GLOBE
14 HASTINGS THE COMMON ROOM
15 WAIROA EASTEND
16 GISBORNE SMASH PALACE BAR
19 TAURANGA GALLERY AT TE PUNA QUARRY PARK
20 COROMANDEL HAURAKI HOUSE THEATRE
21 HAMILTON ARTS FESTIVAL
22 WHANGAREI LLAMA LOUNGE
23 LEIGH SAWMILL
24 KOHUKOHU SOUNDGARDEN