Graham Reid | | 1 min read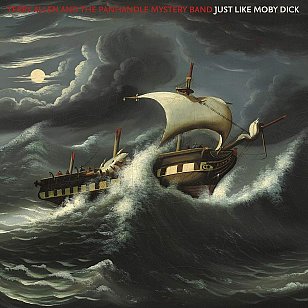 It always seems a little strange that John Prine should be (rightly) hailed and his peers like the wonderful Terry Allen and Elsewhere's particular favourite Tom Russell should not enjoy similar acclaim for their keen-eyed story telling and strong songs.
Terry Allen – now 76 – has been recording since the mid Seventies and in the past we have shone the spotlight on his debut Juarez when it was reissued on the Paradise of Bachelors' label a few years back. His follow-up Lubbock (on everything) is probably overdue as an Essential Elsewhere album.
After the Eighties his albums have always arrived at a leisurely pace (he's a multimedia artist so keeps busy) but we did also note his 2013 Bottom of the World.
We missed the dark radio plays and songs on Pedal Steel and Four Corners of last year which is on Spotify here.
This latest missive – – from the man whose musical peers include Joe Ely, Butch Hancock and Jimmie Dale Gilmore -- finds him typically fine form with his large band of family members, slide guitarist Lloyd Maines, singer Shannon McNally, Dylan's guitarist Charlie Sexton (who co-produced) and others.
The second side opens with a trilogy of songs entitled American Childhood which is a series of reflecting songs which move from the innocent yet fearful Civil Defense (hit the ground or get under your school desk when there's that nuclear flash) through his bitter and downbeat Bad Kiss ("It's just the same fuckin' war . . . Iraq, Afghanistan, just like Vietnam . . .") and Little Puppet Thing in which Geppetto the puppet maker/master's nose outgrows Pinocchio's with every lie.
And who might that be?
The most striking piece on the first side – we are thinking vinyl here – is an exploration of the story of Pirate Jenny ("in her black ship she sails . . . her despicable crew will be waiting for you") which is spoken poetry in the verses and McNally adding yearning pathos in the choruses.
Elsewhere Houdini is out there disproving spiritualists who pretend to speak to the dead (as he did), there is a rumination on the condition of abandonment (Abandonitis), a haunting cabaret-folk piece conjuring up stark pictures which subvert circus imagery (City of the Vampires) and much more.
Terry Allen is an outsider artist-cum-storyteller who here draws on Brecht and Weill, myths and magic and metaphors, and weaves them into songs which sit easy on the ear (Sailin' On Through at the end) but uneasy in the brain.
Recommended.
You can find this album on Spotify here.