Graham Reid | | 1 min read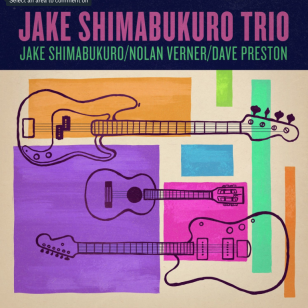 It has been 12 years since I picked up the album Gently Weeps album by the Hawaiian ukulele player Jake Shimabukuro, largely to see what he did with the George Harrison title track.
You can make up your own mind on that here, but for me that was all the impetus I needed when this album (with bassist Nolan Verner and guitarist Dave Preston) turned up.
Let's just say Shimabukuro is unlike any other ukulele player you will ever have heard. In fact you'd probably be surprised to learn that it is ukulele at all on most of these tracks where he brings out a lute-like quality (Lament with Pink Floyd-like atmospherics), something akin to an acoustic guitar (the more MOR Summer Rain) and on the furious hard rock opener When the Masks Come Down with Preston off the leash and the gritty, fist-tight tension of Twelve this is to ukulele what Rodrigo y Gabriela are to flamenco.
And in that regard Red Crystal takes a trip to Spain.
Given full rein for his cinematic sonic scope in Nashville, Shimabukuro – age 43 – is also a man of his generation who grew up with traditional Hawaiian ukulele music alongside rock. And here he covers both ends of that spectrum with the lovely and familiar traditional tune Wai'alae and their treatments of Floyd's Wish You Were Here and Fleetwood Mac's Landslide (with a Nicks-soundalike Rachel James from the band Dearling).
Jake Shimabukuro is big in Japan and Hawaii, has topped the Billboard world music charts with previous albums, toured with Jimmy Buffett, been produced by Alan Parsons and has won a shelf of awards.
He probably deserves to be seen live but the breadth of this album is worth your serious attention.
Except if you are a ukulele player. It could make you want to hang up your instrument.
You can hear this album at Spotify here.