Graham Reid | | 2 min read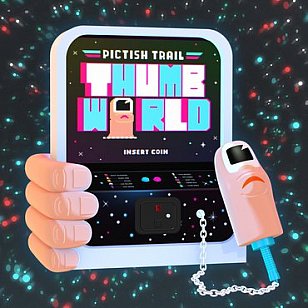 British psychedelic music has always been a very different animal to that of America's (and let's not get into the Italians at this point!).
Often grounded in weird folk, classical music, British whimsy and eccentricity, during its heyday in the late Sixties it spawned artists as diverse as the Incredible String Band, Procol Harum and early Pink Floyd (before Dark Side).
There has been a thread which ran from then through Julian Cope, folkadelic artists like Television Personalities, people we were made aware of thanks to Wellington's Nathan Ford of Active Listener which is no longer active, and the Chris Wade/Dodson and Fogg connection.
Pictish Trail is (like Dodson and Fogg) a one-man operation, it is Scotland's Johnny Lynch who lives on the Isle of Eigg (a small Hebridean Isle, south of Skye and less than 40 sq kms in area).
His previous albums have been much acclaimed in the homeland – this the first since Future Echoes, the Scottish Album of the Year by public vote four years ago – and his mix of dreamy and understated electronica, left-field folk and slightly tripped-out melodies is wrapped in seductive melodies.
Certain themes recur throughout, mostly about how life and experiences circle back on themselves. Or something like that.
Double Sided – which follows the wonderful opener Repeat Neverending – opens with "Back into another life, it comes, all senses simulated, Hypnotised through double-sided eyes, here comes the levitation. All this time, for never reason, slide into reliving season, Life by line in role reversal, rolling by 'til hearse rehearsal, Back and forth, back and forth . . ."
Good luck with the lyrics of Pig Nice which seems to allude to Donald Trump but maybe not.
But even when he is his most abstruse, Lynch delivers with songs which would appeal to indie.pop kids and old Beatle fans alike (Lead Balloon).
So what is this all about (and the cover offers a clue here too)?
Certainly truth, lies and perception ("but thinking back, slow memories were not always as they seemed. Was I awake, or occupied?" on the delightfully light Slow Memories). But also dreams, reality, dislocation ("I'm not myself anymore, I've got this strange voice calling me down. Every morning, singing numbers to me," on the poppy Bad Algebra which recalls a quiet Ray Davies).
If we define psychedelic music more by its effect than how it sounds, then these mind games, questions and doubts, altered states and memories are certainly that, and all delivered with gentleness and compassion amidst the confusion, as on the electronica slow-dance pop of Turning: "You and me, we collapse in time, we forget ourselves. Rewind to when we didn't know each others eyes, when I was inclined to be polite and retire, call it a night. And let you go. Now I replay the moment you pretend to go home and say 'Good night'. But every time I just never see you turning . . ."
Take your time with this album.
Like a single malt from the region, Thumb World is best enjoyed through slow and reflective tasting.
You can hear Thumb World at Spotify here.