Graham Reid | | 1 min read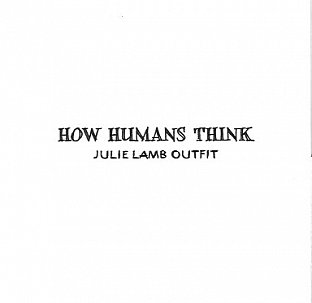 As with her 2017 album Ordinary Days under her own name, we again acknowledge Wellingtonian Julie Lamb and the time, effort and artistic presentation of this plain-looking CD which -- when opened out as a quad-fold -- has a pocket containing hand-drawn cards for the lyrics of each of the eight songs, liner note credits and a pop-up cut-out which you should discover for yourself (all by artist Deb Mansfield).
At a time of invisible streaming, Lamb goes to a lot of effort to present herself with a point of difference.
The eight-piece Outfit (horns, piano, rhythm section, backing vocalist) here embellish Lamb's songs which sometimes come from a core of pop-folk (the Leftovers) or cabaret blues (as on Let Go with jaunty piano from singer/writer Shan Jordan underpinning and horns).
With sax and piano, some of these songs slip easily into sophisticated jazzy-pop with a hint of funk, as on Thunderface which you wish had stretched for another minute of the closing instrumental passage (and also the passage at the centre of Busy is the New Black).
This time out there's no slightly cloying, doubtless crowd-pleasing tribute to Wellington as there was on the previous one (Hashtag on a Good Day) which makes this more focused.
Although middle-class social observation is here again in the slinky Busy is the New Black ("Life passes by my window, lucky it's a penthouse, quite picturesque").
At times the lyrics can be jarring ("the milk had been okayish, leftovers had not yet been left" on Lamb's metaphoric ballad Leftovers) or goes for unusually colloquial tone: ""But that's old news to me, so go and have your morning tea" on the most unbluesy Born with the Blues written and sung by Jordan.
Lamb really nails the song/melody balance on the Elton-Bernie piano ballad This Time I Won and the album springs to life on the chipping and horn-punctuated funk of Volume Control with guitarist Eoin Williams, saxophonist Amity Alton-Lee and bassist Chris Fursdon.
The latter song suggests this would be a band worth seeing as they push these songs out further in a live setting.
.
You can hear this and buy this album at bandcamp here where there is a limited number of the CD version available
.