Graham Reid | | 3 min read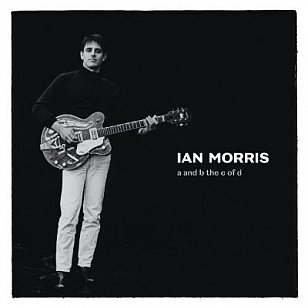 Despite lockdown limbo when one day was much like another, time steadily implodes as months, years and decades telescope in the memory.
Last month, had he not been murdered, John Lennon would have been 80. In December he'll have been dead for as long as he was alive.
And it has been a decade since the much respected, talented Ian Morris – best known as one of Th'Dudes, in Dave McArtney's Flamingos and for his brief alter-ego Tex Pistol for which he received a most promising vocalist award – took his own life.
More than the Dude who engineered and mixed their music, Morris was an award-winning producer (Hello Sailor before joining Th'Dudes, DD Smash and Dave Dobbyn's Hopetown among others) and father to twins Maude and Julia with Kim Willoughby (When the Cats Away).
The family ensures his life is acknowledged with the release of a and b the c of d, a 12-song collection of solo material he polished in his home studio in Napier.
"He had the whole world in [his studio], and could potter away for hours and days and weeks," says Willoughby says. "This album is a collection of songs written over many years, some dating back to the 90's, (?) some freshly minted not long before he died."
So the a and b the c of d exists as a self-curated collection of songs Morris wrote, performed, engineered and produced in that beloved home studio.
Inevitably we impute a meaning into some songs. The evidence of his depression could be deduced in the abrasive pop-rocker Swamp Thing ("If you take the devil for a ride, pretty soon he'd gonna wanna drive"), perhaps also in the brittle New Wave pop of Nobody Rides for Free or "I spent 48 hours in heaven but I paid for it forever in hell … there's no good news for me" on the fist-tight Good News.
But if we were not to assign such meaning, this album can be heard differently: there is the lovely late-period Lennon-like ballad Maude, the effortless melodic roll of The Thin Desire,the shameless fun of Vespa and the dreamy jangle-pop of The Distance Between You and Me.
On No Rain, No Fire he rails against the foolishness and vanity of Man in a lyric fired by coiled rage and a guitar solo stabbing and twisting like a shiv.
Yes, on the brooding Between the Stirrup and the Ground he sings "nobody told me life would be so wicked" but the lyrics and construction also embrace a soaring optimism "if we try, we'll live life by the moon . . ."
Nothing should be read into the deaths of the characters in Roll Call other than Morris acknowledging the attrition of friends and fellow-travellers, which happens in life.
Nor It's Overwhich opens as a country-rock meditation on the inevitable but blazes with resilience and has a singalong chorus of "all day, all night, just hold me close and we'll be alright".
If we weren't aware of the circumstances of his death, we's simply acknowledge that we expect adults to think about life and mortality, the great unknowns and the infinite beyond.
In that regard, posthumous albums can be problematic: a sensible assessment often swamped by sentiment.
George Harrison's Brainwashed released a year after his death, was nice enough but typically uneven, and Marwa Blues from it didn't deserve the 2004 Grammy for best instrumental.
Yet only an ice-cold heart could hear Billie Holiday's string-soaked Lady in Satin– a regret-filled lament for lost loves, the last released in her lifetime – and not be moved.
Warren Zevon, David Bowie (with blackstar) and Leonard Cohen (Thanks for the Dance) all left albums as farewell messages when they knew their time was almost up, so they intended the meanings in them.
What sets the Morris album apart however is that these songs aren't suffused in sadness, self-pity or necessarily signal what was to come. Morris was a pop-rock craftsman and these economic songs can exist independent of their current context.
As Morris told Chris Bourke of Audioculture years ago, "I just loved the three-minute pop song. I became aware of what goes into making a record, what makes a record great. It's not just a song, but a record. That's what grabbed me – the aural landscape of a record – and the emotion you can convey in a sound, rather than just a lyric and melody."
In a classy cover – a still from the '87 video-shoot for his Tex Pistol hit Game of Love --this album mostly plays like a collection of singles . . although the last, resigned words of the final track resonate after the song ends: "It's over".
The title a and b the c of d is the Morris family's code for "above and beyond the call of duty".
Given Ian Morris' considerable accomplishments and the aural landscape of this album, that seems fitting.
.
Ian Morris' a and b the c of d is available digitally and on limited edition vinyl.