Graham Reid | | 1 min read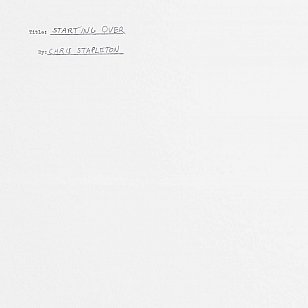 If you didn't know what he looked like, how might you picture songwriter Chris Stapleton from knowing his songs had been covered by Adele and he's co-written with Ed Sheeran, Peter Frampton and Sheryl Crow?
You might see Stapleton as some bookish-looking writer in an office in London, New York or LA.
But add in a swag of country music awards for his songs and his own albums, the fact he comes from a hard-graft family in Kentucky and maybe a different image emerges.
Then you play his raw country-rock, swamp-funk rock on this new album and his actual appearance – like a beardy, long-hair mountain man on some American reality show – makes a whole lot of sense.
Elsewhere profiled Stapleton some time back and since then he hasn't slowed down as a writer, performer and award winner.
This new collection in a typically understated cover cuts through such a wide swathe of styles – all of which he is convincing in – that, as always, you could hear it as source material for everyone from Rod Stewart (the aching, string-enhanced soulful ballad Cold) to John Fogerty (the swamp rock of Devil Always Made Me Think Twice) and roadhouse rock bands everywhere (Arkansas co-written with the on-hand Mike Campbell of the Heartbreakers).
There's folk-country balladry (Joy of My Life) and brooding toughness (Hillbilly Blood), the spirits of Waylon and the Allmans sprinkled everywhere, and a tribute to his adopted hometown on Nashville, TN in which he bids it farewell.
Chris Stapleton was always bigger than that capital of country music and here is further proof.
.
You can hear this album on Spotify here