Graham Reid | | 1 min read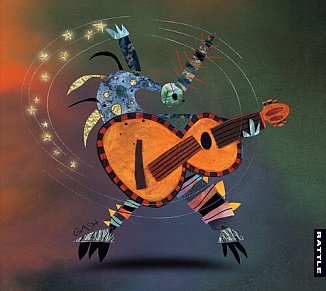 Recently I was invited to write the liner notes for this new release by Auckland's Gitbox guitar ensemble. Thirty years ago as Gitbox Rebellion -- some of the original members still in the current line-up -- they launched the Rattle label, so this album was an anniversary homecoming. This is what I wrote . . .
.
Time, as we live through it, seems linear. But sometimes we can feel it as circular.
Thirty years ago, the Rattle label launched itself with the album Pesky Digits by the Auckland guitar ensemble, Gitbox Rebellion. Under the assured stewardship of helmsman Steve Garden, Rattle has since taken listeners on journeys through classical, jazz, sonic experimentalism, improvised music, the evocative sounds of taonga puoro . . . And it has recorded artists as unique as the percussion group From Scratch and now, again, Gitbox.
Curveball – an appropriate title for a Gitbox and Rattle album – is the group's third for the label following Pesky Digits and Touch Wood in '94. As always, Gitbox subverts expectations but also deliver their beautifully realised, sometimes algebraic, melodies with a lively vigour or an elegant stateliness.
From the pristine opening chimes of the ethereal Sanctuary where the glistening notes hang in still air and the urgently repeated figure which opens Absent Friend through the sub-tropical balm of the charming Dhoggs (My Dog Doesn't Respect Me) to the concert chamber concentration and aural dynamics of the title track and beyond, the first disc of studio recordings is a constant revelation. And a reminder of how sophisticated and seasoned these players are.
Four of the group's original members – Nigel Gavin, Kim Halliday, Bodie Hermans and Russell Hughes – are still here, advancing this distinctive project into its fourth decade.
The bonus is hearing the ensemble in concert on the second disc where they essay some Curveball material but also other pieces, among them a variation on Threnody for Francisco Mendez from their debut album, a nod to the completion of that circle of time here.
And they close with Ennio Morricone's dramatic theme to The Good, the Bad and the Ugly. The perfect encore for their rebellious, pesky digits.
Gitbox occupies a singular place in New Zealand music in that it draws from diverse sources. The listener's mind can be taken towards contemporary classical music; allusions to Spanish, Middle Eastern or North African styles; the freedom of jazz, entrancement of minimalism or the economy of pop . . . Yet, out of that exotic and evocative melange of styles and influences, what emerges is -- and has always been -- distinctively Gitbox.
Finally, the cover art is by Graeme Gash (also a guitarist, formerly of Waves) whose distinctive work graced the group's previous albums. Further evidence of how linear time comes full circle with Curveball.
- Graham Reid
You can hear and buy this album at bandcamp here, or pre-order the limited edition double CD which comes in a typically impressive hardcover with booklet.