Graham Reid | | <1 min read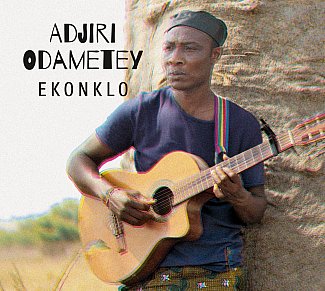 This delightful 13-song album came to Elsewhere direct from Ghanaian-born, Berlin-based singer-songwriter/multi-instrumentalist Odametey.
He seduces you in with the intimate Kootse but then picks up the tempo with the gently joyful bounce of Ghana Groove with that seductive, tickling guitar style from that coast of Africa. (If you haven't a decent album since Paul Simon's Graceland start with this song.)
Throughout the album, Odametey juggles a soulful, searching and yearning sound with celebration and gratitude (the booklet offers the lyrics in translation)
With kora, balafon, kalimba and ngoni alongside bass, guitar and drums, this bridges traditional and contemporary sounds in a very subtle and seductive way.
And the title track is a beautiful instrumental as a centrepiece.
These days artists of all persuasions have to work hard to get their music in front of the public, but those like Adjiri Odametey have it so much more difficult.
We're delighted he came to us with this release (and a much more polite email than we are used to receiving) and recommend this album unequivocally.
In the absence of the Taranaki Womad which would have been about now, those with a taste for quiet, acoustic music from the Gulf of Guinea will find this a very welcome heart filler.
.
You can hear and buy this album at bandcamp here