Graham Reid | | 1 min read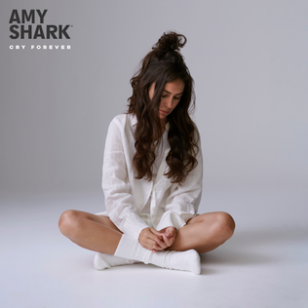 After seeing Australian Amy Shark's appearance at the 2018 Laneway where she was an exciting, sassy and mature rock artist who commanded the stage and the audience's attention, her debut album Love Monster was a considerable disappointment.
It may have won her many, many awards over the Tasman, but it seemed to these ears aimed at a very young demographic (she was in her early Thirties, given her lyrics the intended audience was perhaps still in late high-school).
And, noting the presence of Lorde's familiars Joel Little and Jack Antonoff (among other pop-making craftsmen), we concluded the "heavy fire-power on hand [meant] that this feels just a bit too manufactured and cautious. And frankly towards the end of these 14 songs you feel you've heard all she had to say earlier".
Well, she now 35 and is surrounded again by those, even more, craftsmen . . . but you can't deny her co-write with Little on Everybody Rise owes a huge debt to his work with Lorde, or that the Ed Sheeran co-write on Love Songs Ain't For Us sung with Keith Urban wouldn't sound out of place on a soundtrack (like, yet another remake of A Star is Born?).
Yes, the album reveals a more intimate side of Amy in its dialed-back songs – about broken love and very Swiftian often -- but even then on something like Worst Day Of My Life (about making it out of high school! She's 35) is so uncannily familiar that you have to wonder, "Where's Amy?"
One Australian writer said of this that "global stardom awaits" and I have no doubt it does.
Because she's again doing nothing risky, exciting or unique.
Check out Miss You, remind yourself this woman is 35 and just how much more it might have been. Maybe the video will play to a more adult audience?.
That said, That Girl is nearly a nasty piece of work and Lonely Still is located somewhere beyond college . . .
And if there were more songs like the imagistic, angry, insightful and adult Baby Steps (that title ironic in this teen-angst context?) then we'd be here for her next album.
But.
Amy Shark – whose concerns here are mostly seeing boys, not men, and life from a sensitive young girl's perspective – never puts a foot wrong and has delivered the perfect and perfectly crafted album for her audience.
Cry Forever will be huge, but it will never be interesting . . . . unless you start with the knife-sharp final, self-titled autobiographical track which incidentally puts its blade to the throats of nay-sayers like this writer and her fair-weather friends.
.
You can hear this album at Spotify here.