Graham Reid | | 1 min read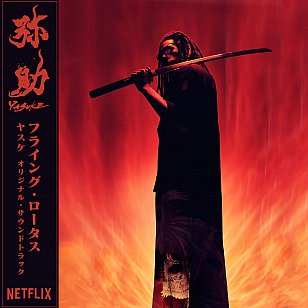 From time to time Elsewhere will single out a recent release we recommend on vinyl, like this one (which comes with a download code).
Check out Elsewhere's other Recommended Record picks . . .
.
Given what we said about the last Flying Lotus which crossed our path – that the instrumental album of Flamagra was more satisfying than the original version with its heavy guests list – this one was going to attract our attention.
Although this is the music to a Netflix anime series of the same name these mostly atmospheric pieces – 26 of them, all but a few under two minutes – you needn't have seen the six episodes (about a samurai of African descent apparently) to get into these moods where traditional Japanese instruments occupy the same musical and emotional space as electronics, a smidgen of African percussion and swooning basslines.
Hiding in the Shadows features an ethereal vocal by Niki Randa (she's back to lesser effect on Between Memories) and there's a short rap by Denzel Curry on African Samurai, but all the rest are discrete pieces which exist independently of the images and have reference points in everything from Seventies jazz-fusion, deep funk, a bit of Kitaro ambient evocation and strident electronica.
After the Flamagra instrumentals, this seems a logical step if Flying Lotus' music and production is something you want to follow.
.
You can hear this on Spotify here but it is also available now on limited edition vinyl through your favourite record store (and is distributed by Border out of Auckland)