Graham Reid | | 1 min read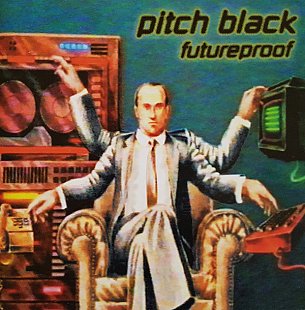 From time to time Elsewhere will single out a recent release we recommend on vinyl, like this one . . .
The electronica duo of Mike Hodgson and Paddy Free have done a remarkable job of keeping their pretty damn wonderful catalogue alive despite Hodgson longtime domiciled in the UK and Free still in Auckland.
They have released new albums, rarities and remixes, and more recently have started reissuing some of their earliest albums on vinyl such as their exceptional Electronomicon (2000) last year and now this, the double vinyl version of their '98 debut album Futureproof which placed them in the vanguard of evocative, thoughtful and sometimes spaciously dubbed-out electronica.
To accommodate the limitations of length on vinyl, the running order here is shuffled a little and the remixes (aside from the pulsing, dub-influenced Melt which was beamed in from their Dub Obscura EP) on the original CD have been sidelined.
No matter, here is the deliciously seductive sound of Pitch Black which is masterful in its understatement at a time when electronica was going widescreen and loud.
We've noted before that PB understood the difference between an album for home entertainment and a more commanding live showing, the difference illustrated here by something as surreptitious as Soliton (which becomes increasingly exotic in its closing overs), and the somewhat creepy The Gatherer which, with the slow Speech following, is the lights-off-if-you-dare-kids first side.
Even the live treatment of The Gatherer here (on side three) gets by on nuanced beats and blips rather than thumping beats.
The most strident workout is They Are Among Us written by their peers Salmonella Dub which follows that live Gatherer.
And it all leads to the pumping Altered State and Alternate State on the final side.
Pitch Black were originals and originators, and here across four sides of vinyl in a gatefold sleeve is the evidence of how quickly they established their unique and appealing sound.
After this it was all up and up into more ambitious and wider screen sonic adventures.
.
For more on Pitch Black and the solo albums by Mike Hodgson (as Mislead Convoy) and Paddy Free at Elsewhere start here