Graham Reid | | 2 min read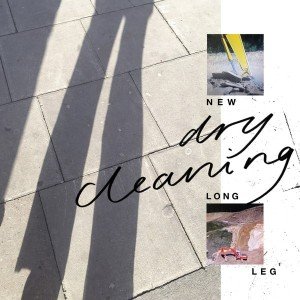 If the immediate acclaim heaped on The Strokes when they emerged two decades ago taught us anything it was
to be wary of middle-age and older white male rock critics who heard in them the formative music of their own youth (New Wave/Lou Reed?New York swagger)
and therefore anointed the band with some strange notion of authenticity.
The Strokes were fun, but accusations of originality were never going to thrown at them.
At first blush you might feel the same about England's Dry Cleaning who touch familiar points in post-punk, emotionally detached New Wave guitar rock.
The vocalist Florence Shaw's flat delivery is more spoken word than singing: You could imagine a mid-period, Saarf London Marianne Faithfull fronting Wire or a softer Deborah Evans-Stickland (the voice of Flying Lizards' version of Money) teaming up with Magazine.
However Dry Cleaning fully understand the project of post-punk in a musical terrain which allows for poet/spoken word artist Kate Tempest and John Cooper Clarke in the same space as Virginia Wing and Thom Yorke's solo work.
It's about acknowledging the past as a platform to stand on to make something of your own, not sounding like what went before (as was the case with the Strokes).
Behind Shaw's spoken word poems reflecting blighted landscapes of place and emotion are the studied guitar of Tom Dowse, drums (Nick Buxton) and bass (Lewis Maynard).
The band can deliver a kind of naggingly addictive guitar-motorik groove (the hypnotic opener Scratchcard Lanyard in which she says, "I've come here to make a ceramic shoe, And I've come to smash what you made, I've come to learn how to mingle, I've come to learn how to dance") or Gang of Four-like sharpness (the title track).
And they don't shy away from some tight guitar solos in the manner of a constrained and British Tom Verlaine (John Wick).
Start at the end with Every Day Curry to hear how they push into challenging sonic territory.
Produced John Parish (PJ Harvey, Aldous Harding), this debut album's immediate hook is Shaw's cynical, earthily imagistic writing ("Tin glazed earthenware flower brick painted in blue. On the sloping edge, a vase of flowers. On the front, a Chinese landscape. On the sides, figures in a Dutch landscape" in Strong Feelings) and loaded narratives: "Fat podgy. Non make-up. Unsmart lady. If you like a girl, be nice. It's not rocket science," on Unsmart Lady.
However on repeat play what comes through is how essential and elemental the band is behind her. A perfect marriage.
This may sometimes have some familiar reference points but Dry Cleaning adopt and adapt to create something uniquely their own.
Maybe at 40 minutes she broadcasts on a narrow spectrum but that's where the band get this well over the line. There's a lot to take in here.
Middle-age and older white male rock critics like this, but young women are also gravitating to it.
What was the name of that first Strokes album? Is This It.
It wasn't, this is.
.
You can hear this album on Spotify here