Graham Reid | | 2 min read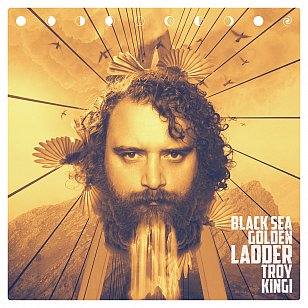 With his new album Black Sea Golden Ladder,
Troy King
i turns towards the home stretch of his ambitious 10-10-10 series: 10 albums in 10 different genres in 10 years.
This album – a collaboration with co-writer, producer and multi-instrumentalist Delaney Davidson, written and recorded as part of Kingi's Matairangi Mahi Toi Artist Residency in Wellington -- finds him at the half-way point with an album which is nominally "folk".
But the songs defy preconceptions of that description.
The opener Sleep – an elegant ballad with descending strings (by multi-instrumentalist Dave Khan, the Swiss Army knife of New Zealand music) and a melancholy piano coda (jazz prodigy Leo Coghini) -- announces an album tracing life from awakening to the twilight years and Sea of Death.
However, this isn't a glum, existential arc, because Kingi nails down Call My Name (School) over a jaunty acoustic strum with staccato images popping out like Dylan's Subterranean Homesick Blues: "First day, new school, barefoot, Jack Frost, bottom of the food chain . . . ".
These childhood snapshots also contain cheeky rebellion and escape.
You in My Arms (Birth) acknowledges how parental ancestry merges in a newborn, although the song's funereal pace also implies the weight of responsibility ("Can we talk about how things won't be the same once you get here?") before soaring with glorious anticipation over strings and organ: "Climb down that golden ladder, you know we're goin' to love you".
It's counterpoint later however is Come Around, a slow ballad subtitled A Father Through a Child's Eyes: the lonely child waiting the window, the lyrics juxtaposing subtexts of secular disappointment, hopefulness and expectation, and spiritual faith ("merciful love").
Life's difficult options arrive on the ominously portentous country-rock of the Davidson-lead Fork in the Road (Choices), but then come autumnal years on the easy, country-kissed back-porch rumination of Twilight ("trouble is far behind us now"), the burden of existence lifts as wairua departs ("we glide across the waves") and the beautiful closer Sea of Death speaks of rejoining ancestors in completion and unity, conveyed by those elegant strings again which close this album's circle.
Over four previous, acclaimed albums – a guitar party, psychedelic rock, political reggae and soul-funk -- Kingi and his various collaborators have challenged themselves while taking their audience on the diverse journeys.
However Black Sea Golden Ladder feels like Troy Kingi's most personally reflective collection, one touching commonalities in the human experience.
It stands alongside his exceptional roots-reggae Holy Colony Burning Acres as a highpoint in this always interesting to-be-continued series.
.
Black Sea Golden Ladder is available on vinyl with two bonus tracks, and on CD and digitally with just one of those. You can hear and buy this album from bandcamp here.
.
Troy Kingi and Delaney Davidson tour
Turner Centre, Kerikeri, August 7
Leigh Sawmill, Leigh, August 8
Forum North, Whangarei, August 10
Clarence St Theatre, Hamilton, August 12
Theatre Royal, New Plymouth, August 13
Opera House, Whanganui, August 15
Theatre Royal, Nelson, August 17
James Hay Theatre, Christchurch, August 21
Regent Theatre, Dunedin, August 22
Opera House, Wellington, August 28
Town Hall, Auckland, September 4