Graham Reid | | 2 min read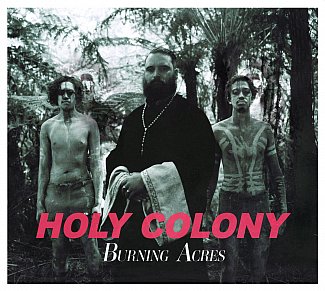 If Troy Kingi's impressive double album debut Guitar Party at Uncle's Bach announced a singer/guitarist and songwriter of considerable breadth and accomplishment, the follow-up Shaky Your Skinny Ass All the Way to Zygertron was a largely shapeless psychedelic journey which, while enjoyably self-indulgent, never quite gripped – unless perhaps you were very stoned.
This new one however is gritty, grounded and political as Kingi taps into the great tradition of socially conscious reggae, soul and rock, and takes a clear-eyed and steely view of colonisation, racism, indigenous issues around the broad Pacific region and the connection between oppressed or marginalised peoples.
Most reggae out of Aotearoa New Zealand has been pretty benign and defaults to non-specific pleas for brotherhood/family/respect . . . but Kingi's agenda here is much tougher and more precise.
While the consciousness roots music out of Jamaica in the Seventies set the stage for local groups like Herbs, Sticks and Shanty and the long-running (but still criminally overlooked) Unity Pacific lead by Tigi Ness, it was a socio-political tradition which was eroded by the whole cruisy, bbq'n'beach-vibe reggae which has become such a part of our musical landscape.
Kingi steps straight back to a more urgent sound (classic reggae horns beamed in from Black Ark), brings chants and traditional voices into the mix, and across a dozen concise and distilled songs sings of the destruction being wrought in traditional homelands which turns indigenous people into powerless refugees (Born of this Earth, sung to a beautiful soulful melody), the imbalance of power between coloniser and indigenous people (the Mighty Invader which extends the spirit of militant Marley), the simple desire for freedom and peace in the face of oppression (Bird of Paradise), the birthright of people on First Nation ("it's the land that governs the man, without it we got nothing") and more.
Babylon Grows gets its message across in a dark and downbeat 2.30s., How Much Fruit? uses a simple metaphor to speak of the rapacious greed of those who exploit people, the environment and the past for short-sighted and short-term gratification.
Let it be said though, these songs are not a litany of complaints but rather an exploration of the issues through a prism which refracts them into different lights, so there is positivity and action here too, a reflection on the beauty of peoples and the planet . . . and all wrapped up in classic old school arrangements (the dub-tread beat of Glass Eel with stadium rock guitar heroics) of the kind we don't often hear amidst the Teflon-reggae of today.
The breadth of Kingi's vision here is also admirable: he looks beyond familiar issues in Aotearoa and goes for a much bigger and more universal picture.
From the short opening karanga/address of The Tower of Babel (a sound collage with multiple voices cutting across each other) to the simple acoustic ballad Truganini at the end, this is impressive on every level.
And what a great band name too. Right up there in the irony stakes with "Otara Millionaire Club".
You can hear this album on Spotify here.