Graham Reid | | 1 min read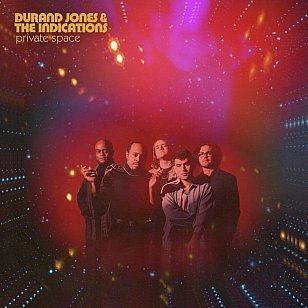 This beautifully slinky, synth-soul album slips around you like a comfort blanket from the glorious opener Love Will Work It Out through to the final falsetto soul of I Can See.
But don't be fooled by the subtle grooves and warm synth-string backing because there are real messages here. That opener includes lines like "Folks overtaken by disease. All the people lost made me fall right onto my knees, all I could do is cry and shout . . .I got so down being alone, watching modern-day lynchings in the streets that I called home. I felt so helpless in thе strife. But I knew I had to trust the faith that lovе would make it right".
Like Marvin Gaye on What's Goin' On, singers Durand Jones and Aaron Frazer touch a point of sadness but never quite despairing of modern America on that song which opens with, "As I roamed across this land and felt the pulse of every heart of every man, I sang some songs to heal some souls. Looking back, it felt so very long ago".
As an opening statement it gets its message across wrapped in a gorgeous, classic soul template.
At times this album recalls great bands like the Stylistics, the Temptations and Curtis Mayfield, especially when drummer Frazer brings that featherweight falsetto (the title track, Ride or Die, Reach Out and I Can See).
With the most deft touches of Seventies soul and disco (Witchoo), and the sensual Sexy Thing, this is largely an album of optimism which holds out hope, as on Reach Out: "You deny it, but I can see you fallin' behind. Lonesome valley, but you don't have to walk it alone . . . all them burdеns, it's more than anyone should bear. Silеntly hurting, but you know you can always share . . . if you need me, you just have to reach out".
This is healing music which is at once instantly familiar but sounds remarkably fresh . . . and refreshing.
They make you believe that love really will work it out.
.
You can hear this album on Spotify here. It is also available on limited edition vinyl with its perfect 38 minute running time..