Jonathan Ganley | | 2 min read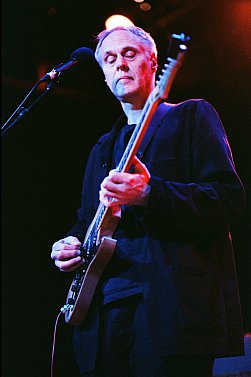 On Thursday October 24th 2013, Auckland's Powerstation hosted one of the most anticipated concerts in a long time. Especially for those who were there during that first flicker of punk and New Wave.
The bill was New York's Television, and Australian Ed Kuepper (formerly of the Saints) opening with an acoustic set.
The jury may be out on how good Television actually were, although few would argue that Kuepper was powerfully impressive.
Of Television, Elsewhere said on its Facebook the following day: "The highly anticipated Television at the Powerstation last night? Much to respect and admire, but rather less to actually enjoy. Aside from Little Johnny Jewel, the "new one" with its Middle Eastern cadences and of course the slightly extemporized Marquee Moon, this was a rather flat showing (with guitarist Jimmy Rip pulling some of the best lines). And their highly un-psychotic Psychotic Reaction at the end? Leave that one to the garagebands, I think."
But we also had there photographer Jonathan Ganley (who has appeared at Other Voices Other Rooms previously as a writer and photographer, see here) to capture this rare moment when these artists played.
What follows are some of his images from the night. We start with Kuepper then Television's Tom Verlaine (also pictured above right), fellow guitarist Jimmy Ripp and bassist Fred Smith.
Jonathan Ganley is an Auckland photographer and writer whose has frequently appeared at Other Voices Other Rooms (see here). His work has covered many subjects, notably New Zealand musicians. Some of those portraits appeared at Other Voices Other Rooms here, and a gallery of his work is available at his website pointthatthing.com All his photos are copyrighted, do not use without permission.