Lisa Perrott | | 3 min read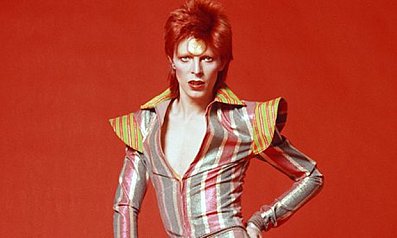 "Same old thing

In brand new drag

Comes sweeping into view

"
– David Bowie, Teenage Wildlife (1980)
Time and again, David Bowie has confounded us with enigmatic acts of gender transgression.
Those acts have been fuelled by a restless drive for recreation, often in the form of ambiguously-gendered personas, such as Ziggy Stardust and the Thin White Duke.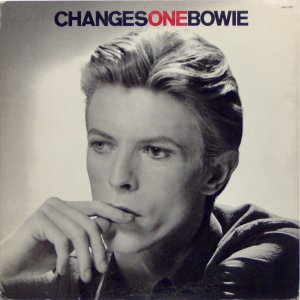 The cover for David Bowie's album, Changes One Bowie (1972), illustrates the androgynous Thin White Duke persona, in which Bowie drew on the gestural traits of Frank Sinatra.
Bowie's mutating personas do not simply emerge from a constant need for transformation. They are created as part of a complex process of performativity, in which Bowie mimics and re-animates the gestural traits of performers such as Marlene Dietrich, Katharine Hepburn, Lauren Bacall, Greta Garbo, Elvis Presley and Frank Sinatra.
In her book Gender Trouble (1990), Judith Butler described this aspect of gender play as "drag" – an ongoing process by which gender is performed, imitated and re-performed.
Bowie fell to earth and thrust himself into this cycle of mimicry at a prescient moment in the seismic landscape of gender politics. Never content to just mimic the costume and bodily gestures of other performers, Bowie has been a cultural alchemist, hybridising gestures with references from music, theatre, philosophy, literature, avant-garde art and cinema.
In the process, he has given new life to certain gestures, performing acts that transgress the boundaries of normalised gendered behaviour.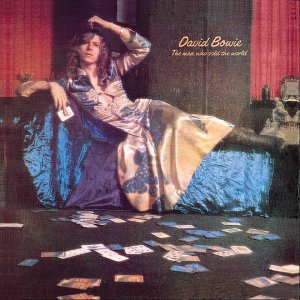 This has been played out progressively over several of Bowie's album covers. His elaborately feminine dress and reclining pose on the cover for The Man Who Sold the World (1970) provocatively invites us into his game of gender play.
Bowie's pose and self-touching gestures on the cover of Hunky Dory (1971) are drawn from those of Garbo, Hepburn and Dietrich. For the Aladdin Sane (1973) album cover, Bowie mutates beyond gender. He is reborn as an exquisitely androgynous, carnal alien, who plays with the alienation of being "Other".
Alienation and gender fluidity also play out in Bowie's music videos. A particularly enduring gestural act is performed in the music video for Boys Keep Swinging (1979), directed by David Mallet.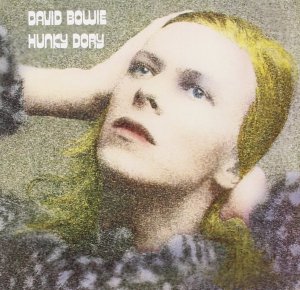 In the midst of his drag of Hollywood starlets, Bowie aggressively pulls his wig off and throws it off stage, then with the back of his hand, defiantly smears his lipstick across his face. Reappearing moments later as another drag persona, he repeats those gestures, as if to reinforce the gender subversion.
Being a master of drag, Bowie probably foresaw the cyclic reiteration of the back-handed lipstick smear. It resurfaces in the music video for China Girl (1983), when New Zealand model Geeling Ng smears her lipstick in a clear echo of the Boys Keep Swinging video – but this time as an act of defiance to the racial positioning of the "exotic Other".
Some 31 years later, at the 2014 American Music Awards, New Zealand singer Lorde ended her song with the back-handed lipstick smear, which was regarded by media commentators as a "punk rock move and a protest against perfect beauty".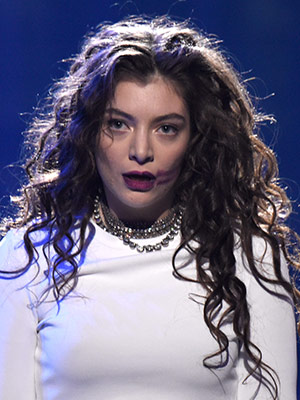 The gesture of lipstick smearing has migrated across cultures and performance mediums, where it has been inflected with alternate meanings.
It could be associated with mime and kabuki theatre – art forms that Bowie integrated into his performances and costume design.
Although the origin and meaning of the lipstick smear may be difficult to pinpoint, its enactment by Bowie has played a crucial role in characterising this gesture as transgressive, and giving it a mimetic life of its own . . .
To read the rest of this article by Lisa Perrott go to The Conversation here. This extract is used with her permission.
Dr Lisa Perrott is a senior lecturer in the Screen and Media Studies Department in the School of Arts at the University of Waikato, New Zealand. Her profile and recent publications are here. She was invited to present a paper on David Bowie at the recent Bowie Symposium in Melbourne at the opening of the David Bowie Is exhibition. For more on that exhibition go here.
David Bowie Is at the Australian Centre for the Moving Image (ACMI) in Melbourne runs until November 1. Bookings are advised. For further information see: www.acmi.net.au