Murray Vaile | | 4 min read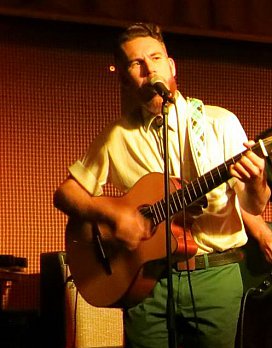 Last year I was fortunate to catch Bannerman playing in support of Tiny Ruins and doubly fortunate to catch them again in Berlin this year, headlining their own show.
I thought they offered a very impressive set that included some new songs, as well as old favourites which they dedicated to regular fans of the band.
Of course, it is some time since Bannerman (aka Richard Setford) played in New Zealand – who played a solo gig this past weekend in Berlin with Marlon Williams – so I took the opportunity to ask Richie about the upcoming album and life in Europe to share his story with Elsewhere readers.
Thoroughly enjoyed the show Richie. Enjoyed your horn player last year. Is he still part of the set up?
"You saw us as a four-piece but officially we're five. We get Oliver Emmitt to come from Amsterdam whenever a gig pays well enough or whenever his schedule permits. His main instrument is trombone but he can cover keys and percussion which are both probably more relevant for the music we're playing these days.
"His vocal is strong too. In our live set up there's also room for something like an SPD sampling pad and having an extra hand to use this is ideal -- So yeah, five people would be our dream set up."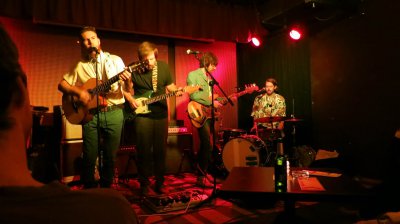 My favourite Bannerman song is the one inspired by Steinbeck's Grapes of Wrath. For me it's a classic timeless song with a lovely chorus that the band obviously enjoy playing. You dedicated this one to the Venue Manager so he has good taste too! I liked the clarity of the new songs,
"You're referring to Hills & Valleys off the first album The Dusty Dream Hole. The two new songs in the set won't be on the new album but they'll definitely come into consideration for the follow up.
"I'd say we're consciously approaching any new songs with the idea of making them more lively, and that's not to say a slow song gets sped up but that we give it more energy or drama.
"In the rehearsal room we're really focusing hard on small details in the arrangements. Like, does the first beat of every fourth bar of the verse become anticipated or does a guitar drone suddenly drop out on a lyrical cue.
"It's remarkable how far we've progressed as a band since we recorded the album material in London back in April. We've brought in Erez Frank on bass and Magnus Bang-Olsen has moved to guitar which has really opened up our sound and it also means we can more accurately interpret the recorded material."
You have been in Europe for a little while now and touring extensively. How has this affected your sound?
"We were mostly a three-piece when I got to Berlin two years ago and so the songs that were being played by a six-piece band back in NZ shrank down to fit, which was really interesting to me. Because what happened is that the kind of essence of the song was revealed and we decided to latch on to those emotive moments that were exposed and embellish them, which I think for the audiences that saw us around this time made for quite an intimate and powerful listening experience.
"We were calling our style at this time (and really I'm only talking recently, like early this year) 'quietly dramatic'. We could have taken that approach into the studio and created a faithful version of what we were doing live but we decided to go bigger and utilise all the studio had to offer.
"The 16 days we spent in London basically informed how we play as a band now.
"I guess you'll have seen and heard the difference I'm talking about when you compare that Tiny Ruins show with the show at Barbobu."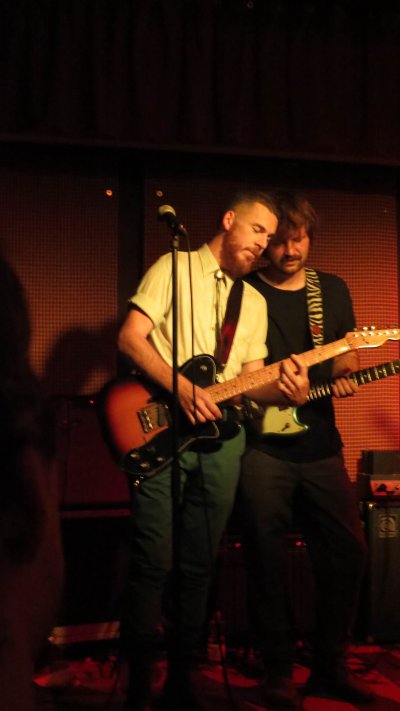 It's a pleasure to be back in Berlin and to be lucky enough to catch you again and to also have the opportunity to ask you if the crowd-funding campaign has been sufficient for you to make the progress you want to complete the next album.
"We got about €1200-1500 from our crowd-funding campaign and used all of that money to get to London where we recorded I think 11 out of the 12 tracks we'd prepared, although only nine of them are to a level we're happy with and even three or four of those need work.
"I'd say right now we have six tracks that everyone is really on board with and that are ready to be mixed.
"So that's our next step and we'll be mixing at Erez' studio over the next month or so.
"We're still talking about what we want to happen but what we all agree on is that we need to put a few of the finished tracks in front of some labels and booking agents and try to get some interest in the band . . . because we're really not on anyone's radar right now.
"It would be nice to get some financial support to press whatever we end up releasing.
"As it stands we don't have the funds to do this ourselves.
"So I'm still uncertain as to when this new material will get out there and I'm really trying to drive things along so that we can show something this year.
"No idea what the collection will be called yet!"
Auckland-based Murray Vaile says confessing his first album purchase was Blue Hawaii and first single was Big Bad John will give him no credibility at all "and ensure no one under 60 will have read even this far". But he's still loving the music and feels completely privileged to have enjoyed the golden era of popular music and to still keep discovering new and vital artists.
In recent weeks its been Molly Nilsson at the Berghain, Berlin (Bannerman in that great city too, of course) and Richard Thompson at London's Festival Hall. And Wagons/Skyscraper Stan and Dawes here in Auckland. Courtney Barnett is up next.
He says recent long haul flights have provided time to read Greg Allman's My Cross To Bear and the equally captivating biography of Little Feat, Willin'.